Teaser Tuesday is a weekly bookish meme hosted by MizB of
Should Be Reading
. Here are the rules:
• Grab your current read
• Open to a random page
• Share two (2) or a few more "teaser" sentences from somewhere on that page.
Today's teaser comes from
Neanderthal Marries Human
by
Penny Reid
. It's a quirky romantic comedy, sequel to Neanderthal Seek Human, and I absolutely enjoyed both books.
"Janie..."Fiona's face scrunched in confusion. "Happiness is not fleeting if you accept it. But if you keep looking for ways to postpone your own happiness, it will always be elusive."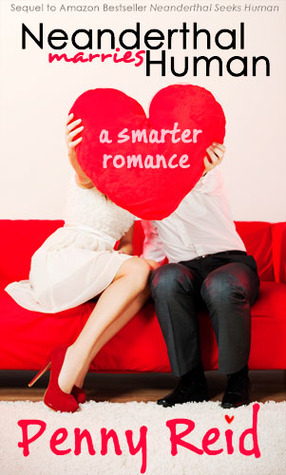 (Knitting in the City #1.5)
Penny Reid
There are three things you should know about Quinn Sullivan: 1) He is madly in love with Janie Morris, 2) He's not above playing dirty to get what (or who) he wants, and 3) He doesn't know how to knit.
After just five months of dating Janie, Quinn—former Wendell and unapologetic autocrat—is ready to propose marriage. In fact, he's more than ready. If it were up to Quinn, he would efficiently propose, marry, and beget Janie with child all in the same day—thereby avoiding the drama and angst that accompanies the four stages of pre-matrimony: engagement, meeting the parents, bachelor/bachelorette party, and overblown, superfluous wedding day traditions. But Janie, much to Quinn's dismay, tosses a wrench in his efficacious endeavors and challenges him to prove his devotion by going through the matrimonial motions, no matter how minute and mundane.
Will Quinn last until the wedding day? Or will he yield to his tyrant impulses?
Regardless, one thing is for certain, Quinn Sullivan will have to learn to expect the Spanish Inquisition (i.e. the unexpected) if he plans to have and keep Janie Morris as his wife.