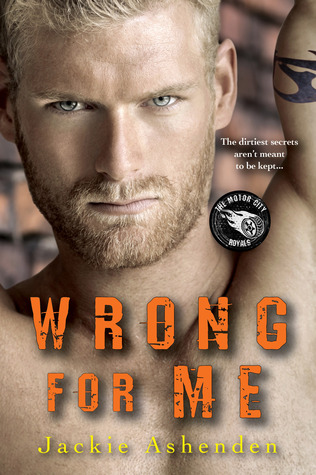 Title:
Wrong for Me (Motor City Royals #2)
Author:
Jackie Ashenden
Date of publication:
29 Nov 2016
Genre / Themes:
Contemporary romance
Author's links:
Website / Twitter / Facebook / Goodreads
Add to
Goodreads
My rating:
3 Stars
Blurb
After eight years in prison, Levi Rush is finally out and back on the gritty streets of Detroit to claim the future he was owed. A future that includes the one woman he's wanted for years—his former best friend Rachel. She's the reason he went inside and if getting her to do what he wants means buying the building that houses her tattoo studio and using it as leverage, then that's what he'll do. Because if there's one thing he's learned inside it's that if you want to win, you have to play dirty.
Rachel Hamilton is a tattoo artist and one hell of a tough girl. Detroit is her home, and she's determined to make it a better place. But her plans are threatened when her old friend Levi reappears and gives her an ultimatum: she gives herself to him body and soul, or else she and her business are out on the street. Levi's got no room in his heart for anything but anger and the lust he's been carrying around for so long. But the only thing stronger than the secrets of their shared past is their fiery attraction to each other . .
.
Review
I really enjoyed the first book (
Dirty for Me
) in this series and was excited about this one. Sadly, it was not as good as expected it to be. I liked some aspects of the story and the writing felt solid most of the time, but there were a couple of issues which didn't sit well with me.
I found the premise of the story intriguing - Levy is an ex-con trying to rebuild his life and figuring out what exactly happened with Rachel and why she did the things she did. I liked the tension between them and while I understood his anger and his need for revenge, I felt he went overboard with both of them.
His blackmail, forcing Rachel into a relationship, if you can call it that, bordered on non-consent for me and even if being together was what they wanted, they way this happened (for most part of the story), it still made me uncomfortable. It was a weird kind of revenge, hurting them both. On the one hand, I can't accept the deal he made with her and seemed very similar to a previous arrangement she had with another man. On the other hand, he loved her (always had), wanted to have a real relationship with her, yet he mostly hurt and humiliated her before turning all his emotions around and making it all about love and a common future.
I must say that the non-romance aspects of the story worked better for me. Levy's relations with his friends, his ambition to make something of himself, to rebuild his life felt real and I had no trouble relating to it. The gentrification of Detroit was also explored in a sympathetic way.
In short, I have mixed feelings about the romance in this story - some of it felt real, some of it was forced, and there were elements in it that made m,e downright uncomfortable. I don't regret reading this book, but I'm not sure I can recommend it.