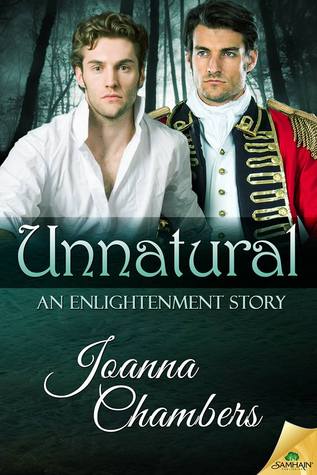 Title: Unnatural
Author: Joanna Chambers
Genre: Historical, MM romance
Release Date: 24 Nov 2015
Synopsis
Captain Iain Sinclair. Perfect son, perfect soldier, hero of Waterloo. A man living a lie. The only person who really knows him is his childhood friend, scientist James Hart. But they've been estranged since Iain brutally destroyed their friendship following a passionate encounter.
Iain is poised to leave the King's service to become an undercover agent in India. Before he leaves his old life behind, he's determined to reconcile with James. An invitation to a country house party from James's sister provides the perfect opportunity to pin the man down.
James has loved Iain all his life, but his years of accepting crumbs from Iain's table are over. Forgiving Iain is one thing—restoring their friendship is quite another.
In the face of James's determined resistance, Iain is forced to confront his reasons for mending the wounds between them. And accept the possibility that James holds the key to his heart's desire—if only he has the courage to reach for it.


Review

This is a spin-off story from the Englightenment series, a favourite historical mm romance of mine which I read earlier this year.

It's a slow burn romance full of tenderness and deep emotions. It focuses heavily on friendships and family and explores the difficult road for two gay men in Regency England from most dear friends to lovers.

The story is told alternating between in the past and the present and the intrigue and tension is slowly building. Iain and James are childhood friends and seeing how their relationship developed and changed and deepened (and sometimes faltered) as they grew up and became adults allowed the readers to experience in full their strong connection. There was admiration initially (on the part of James for Iain), mutual respect, shared interests and a growing physical attraction.

Ms Chambers has created some very engaging characters - James is just so lovable and sweet. He appeared fragile and vulnerable, but he was surprisingly strong and determined. James was sure of his feelings for Iain, loyal to him, yet no doormat but a proud young man who knows his worth and will not settle for less than he deserves.

Iain is wonderfully complex, so much more than what we saw from him in Enlightenment trilogy. His story, his growth into a fine young gentleman, a soldier, a devoted son who did his best to please a father who didn't deserve and couldn't appreciate his efforts. Iain's inner struggles, his moral dilemmas were heart-breaking at times and make him a really intriguing character, someone I cared deeply for.

I loved how the romance progressed slowly. It was a revelation for Iain who fought so hard against it, something he had never even dreamed of. Iain and James navigate a very close, very intimate friendship into a love relationship which they have to keep a secret in a strongly homophobic historical context. We see the POV of both characters which really gave depths and intensity of the story.

For fans of Murdo and David, I have to say there is a particularly pleasant scene with them at the beginning of the book that just melted my heart. A multitude of side characters in the story creates a rich historical background and a detailed pictures of the social situation at the time,

Overall, it's a lovely, tender romance, a recommended read for fans of the Enlightenment series and Ms Chambers' elegant and engaging writing.