Book 15 in one of my favourite PNR series, Psy-Changeling by Nalini Singh comes out in a little over 2 weeks. I can't believe there have been 14 books already. Allegiance of Honor promises to catch up the readers with everything that has been going our favourite couples since we left them in a happy place in their own books.
Here is all the info about the upcoming release, which btw, will take coincide with my birthday, June 14, making this book a special birthday gift to me :)
Ms Singh and her team have been kind enough to offer a giveaway to celebrate the release of Allegiance of Honor. You have the chance to win a SIGNED US paperback edition of
Tangle of Need
(one of the most emotionally complicated and intense stories in the series for me). The giveaway is open internationally and you just need to fill the rafflecopter below to be enter in the draw.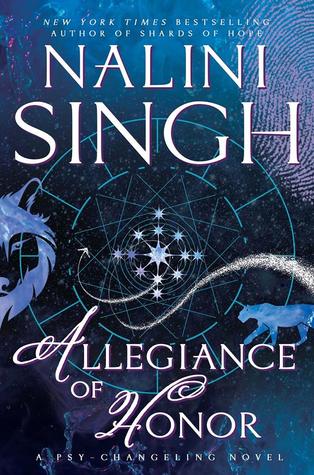 Title:
Allegiance of Honor (Psy-Changeling #15)
Author:
Nalini Singh
Date of publication:
14 June 2016
Genre:
PNR, Shapeshifters
Author's links:
Website / Facebook / Twitter / Goodreads
Add on
Goodreads
Pre-order links:
Amazon / B&N / Kobo / iBooks / ARe


Blurb
The Psy-Changeling world has undergone a staggering transformation and now stands at a crossroads. The Trinity Accord promises a new era of cooperation between disparate races and groups. It is a beacon of hope held together by many hands: Old enemies. New allies. Wary loners.
But a century of distrust and suspicion can't be so easily forgotten and threatens to shatter Trinity from within at any moment. As rival members vie for dominance, chaos and evil gather in the shadows and a kidnapped woman's cry for help washes up in San Francisco, while the Consortium turns its murderous gaze toward a child who is the embodiment of change, of love, of piercing hope: A child who is both Psy…and changeling.
To find the lost, protect the vulnerable—and save Trinity—no one can stand alone. This is a time of loyalty across divisions, of bonds woven into the heart and the soul, of heroes known and unknown standing back to back and holding the line. But is an allegiance of honor even possible with traitors lurking in their midst?
GIVEAWAY
a Rafflecopter giveaway