Review: Lively St. Lemeston series by Rose Lerner
02:17
This is a joint review of the first three books in the Lively St. Lemeston series of historical romance by Rose Lerner which I binge read in a week some time ago.
In short: I loved everything about these books!
Title:
Sweet Disorder (Lively St. Lemeston #1)
Author:
Rose Lerner
Date of publication:
18 March 2014
Genre:
Historical romance
Author's links:
Website / Twitter / Facebook / Goodreads
Add on
Goodreads
My rating:
4 Stars
Blurb
Political intrigue could leave his heart the last one standing…alone.
Nick Dymond enjoyed the rough-and-tumble military life until a bullet to the leg sent him home to his emotionally distant, politically obsessed family. For months, he's lived alone with his depression, blockaded in his lodgings.
But with his younger brother desperate to win the local election, Nick has a new set of marching orders: dust off the legendary family charm and maneuver the beautiful Phoebe Sparks into a politically advantageous marriage.
One marriage was enough for Phoebe. Under her town's by-laws, though, she owns a vote that only a husband can cast. Much as she would love to simply ignore the unappetizing matrimonial candidate pushed at her by the handsome earl's son, she can't. Her teenage sister is pregnant, and Phoebe's last-ditch defense against her sister's ruin is her vote—and her hand.
Nick and Phoebe soon realize the only match their hearts will accept is the one society will not allow. But as election intrigue turns dark, they'll have to cast the cruelest vote of all: loyalty…or love.
Review
This is one of those rare historical romances that are not about dukes and ladies and ballroom dances but rather about more common ordinary people and how politics affect their struggles to find a respectful place in life.
The heroine, Phoebe, is an amazing character whom I loved so much. She is a somewhat overweight widow, writing stories for a living and trying to cope with living on her own. She is strong and independent but also caring and deeply connected with her family (her sister, to be precise) and ready to sacrifice herself for her sister's well-being and happiness.
Nick is an ex-army officer, wounded and using a cane, a young man who is not sure of his direction in life. Throughout the story we see him as a kind man, a little lost but ultimately noble and true to himself. Like Phoebe, he is bound by family obligations and his own sense of duty, but also fumbling around to find his own happiness and the right way to move on in life.


The romance was unexpected for both of them, it was not something they were actively looking for, but it felt so right and it was the thing that they both needed at that moment. It develops against the background of Tory/Whig political struggles which add yet another obstacle before they could be together.


The complications before Phoebe and Nick coming together were numerous and seemed impossible to overcome, yet they did overcome them in a way that worked well for everybody as well. It was a fitting happy end, realistic, fraught with difficulties and sacrifices but all the sweeter for that.
The story has a strong cast of strong supporting characters, each with their own story, adding richness and depth to the plot, making it real and easy to relate to.
I loved the twist and turns, the unexpected changes kept taking me by surprise and I absolutely enjoyed them all.
The writing it beautiful as well, not too flowery but rich in historical details, with a refreshing sense of humour. It was a pure delight following Phoebe and Nick's romance and I whole-heartedly recommend this book to all lovers of historical romance.
Title:
True Pretenses (Lively St. Lemeston #2)
Author:
Rose Lerner
Date of publication:
13 Jan 2015
Genre:
Historical romance
Author's links:
Website / Twitter / Facebook / Goodreads
Add on
Goodreads
My rating:
4 Stars
Never steal a heart unless you can afford to lose your own.
Through sheer force of will, Ash Cohen raised himself and his younger brother from the London slums to become the best of confidence men. He's heartbroken to learn Rafe wants out of the life, but determined to grant his brother his wish.
It seems simple: find a lonely, wealthy woman. If he can get her to fall in love with Rafe, his brother will be set. There's just one problem—Ash can't take his eyes off her.
Heiress Lydia Reeve is immediately drawn to the kind, unassuming stranger who asks to tour her family's portrait gallery. And if she married, she could use the money from her dowry for her philanthropic schemes. The attraction seems mutual and oh so serendipitous—until she realizes Ash is determined to matchmake for his younger brother.
When Lydia's passionate kiss puts Rafe's future at risk, Ash is forced to reveal a terrible family secret. Rafe disappears, and Lydia asks Ash to marry her instead. Leaving Ash to wonder—did he choose the perfect woman for his brother, or for himself?



Review
This is the second book in the series but can be read as a standalone, set in the same universe as the first book but not closely connected with it. This is the most unusual historical romance I've read, even though I haven't read that many.
We have a Jewish hustler hero and a heroine who needs a husband to able to access her inheritance money.
This story shows us the other side of politics - the world of Tories and the politics of the rich and influential. It offers a nice contrast between the heiress Lydia, well established in her world, rooted in her home, with clear sense of who she is on the one hand, on the other, we have Ash, a Jewish man in disguise, drifting around England, with no past and no home.
Their romance was a truly challenging and eye-opening journey for them both, a discovery of what it means to be a brother, a sister, a lover, what the meaning of family is and how to love them, what home is and how to make one for yourself and your loved ones.


Both Lydia and Ash had to change their expectations and plans, give up their presumptions and find their free will and road to personal happiness.Ms Lerner presents the reader with a profound exploration of identity which I found fascinating in the given historical context.
We have the same exquisite writing as the first book, the same attention to detail, the same depth of character development (with even more intensity) and abundance of plot twists.
Overall, this book was both similar to and different from the first one in the series but it was an equal pleasure for me to read it.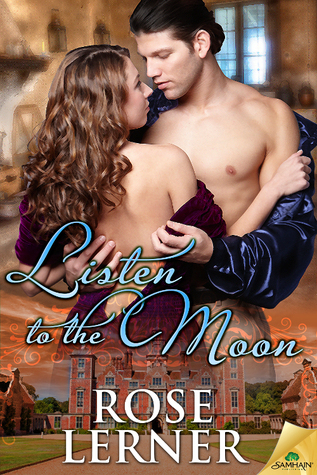 Title: Listen to the Moon
(Lively St. Lemeston #3)
Author:
Rose Lerner
Date of publication: 5
Jan 2016
Genre:
Historical romance
Author's links:
Website / Twitter / Facebook / Goodreads
Add on
Goodreads
My rating: 5
Stars
When upstairs valet meets downstairs maid, the line between work and play blurs. Lively St. Lemeston, Book 3 John Toogood dreamed of being valet to a great man...before he was laid off and blacklisted. Now he's stuck in small-town Lively St. Lemeston until London's Season opens and he can begin his embarrassing job hunt. His instant attraction to happy-go-lucky maid Sukey Grimes couldn't come at a worse time. Her manners are provincial, her respect for authority nonexistent, and her outdated cleaning methods-well, the less said about them, the better. Behind John's austere facade, Sukey catches tantalizing glimpses of a lonely man with a gift for laughter. Yet her heart warns her not to fall for a man with one foot out the door, no matter how devastating his kiss. Then he lands a butler job in town-but there's a catch. His employer, the vicar, insists Toogood be respectably married. Against both their better judgments, he and Sukey come to an arrangement. But the knot is barely tied when Sukey realizes she underestimated just how vexing it can be to be married to the boss... Warning: Contains a butler with a protective streak a mile wide, and a maid who enjoys messing up the bed a whole lot more than making it."



Review
This is the latest book in the series and I can honestly say it's my favourite. The is an amazing under-the-stairs romance about a valet/butler and a maid of all work and I loved everything about it.
There is so much depth in this story and both the characters of John and Suckey are drawn up with such love and care and understanding by Ms Lerner that the reader can't help but fall in love with them.
The romance follows the common trope of marriage of convenience but it's done so exquisitely and absolutely captivating, that it felt like I was reading something fresh and in many ways unique. Suckey and John feel like real people and their fears and dreams and hopes and mistakes and small victories are easy to relate and understand.
This is not your typical romantic love at first sight, though both hero and heroine were attracted to each other from the beginning. It was in their marriage, in actually living (and working) together that they discover who the other person really is and learn to love and respect them.
On the surface, John and Suckey were such an unlikely couple. He is a perfectionist, hard-working, and ambitious, always trying to do his best. She is much more easy going, not really lazy but definitely not as pre-occupied with her work as he is. Finding a balance between their conflicting natures was fascinating to read. Both John and Suckey had to face their fears and learn to trust the other, to be honest and open about their feelings. It really is a lesson of communication and though set in the world of servants in Regency England and I found it universally relevant and applicable to any love couple at any time of history.
The richness of details about the servants' lives with its joys and troubles made a very engaging, rich story and was a pure pleasure to read.


Overall, this is a fabulous historical series - rich in details, diverse in characters, impeccably written and really engaging. There will be more stories in the series coming, hopefully soon and you can learn more about them on the author's site.