Review: Live by Mary Ann Rivers
05:30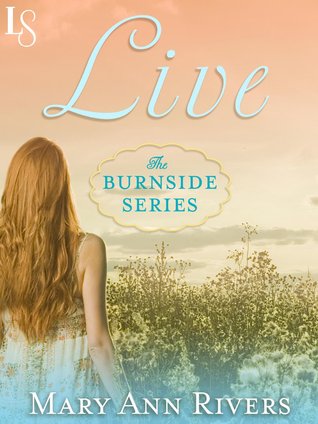 Title:
Live (Burnside #1)
Author:
Mary Ann Rivers
Date of publication:
21 Jan 2014
Genre:
Contemporary romance
Author's links:
Website / Twitter / Facebook / Goodreads
Add on
Goodreads
My rating:
4.5 Stars
Blurb
If there's an upside to unemployment, Destiny Burnside may have found it. Job searching at her local library in Lakefield, Ohio, gives her plenty of time to ogle the hottest man she has ever laid eyes on: the sexy wood-carver who's restoring the building. But as the rejection letters pile up, Destiny finds an unexpected shoulder to cry on. With his rich Welsh accent, Hefin Thomas stirs Destiny so completely that, even though he's leaving soon, she lets herself believe the memory of his scorching kisses will be enough.
Hefin can't help but notice the slender, confident woman with ginger hair who returns each day, so hopeful and determined. So when the tears start to fall, his silence—penance for a failed marriage—finally cracks. Once he's touched her, what Hefin wants is to take her back to Wales and hold her forever. But Destiny's roots run too deep. What they both need is each other—to learn how to live and love again.
Review by Ellie
I read my first book by Mary Ann Rivers,
The Story Guy
, back when it was released in 2013 and have been meaning to try her Burnside series ever since but as it often happens, I got sidetracked. Recently a recommendation of
Live
by a trusted friend on Twitter brought this book back to my attention and it was just the right time to dive into it.
Now, having read it in just two days, I wonder what I was thinking waiting so long.
This a tender love story of a Welshman, stranded in Ohio, the wonderful caring beta hero Hefin and a local girl, rooted in her neighbourhood and her family with the mystical name of Destiny.
I really enjoyed this very introverted, slow-burning but very deep and intense romance. I liked how the author focused on the complexity of life and love in modern times - the efforts it take to keep your family together, the struggles with unemployment and a dire financial situation, moving across the world for the person you love.
Life and love are not simple, they are not just about us but they also affect all the people we care about and who care about us. There are no easy solutions and both Des and Hefin's problems seem real and easy to understand. The struggles they face, the decisions they have to make are unique to them but in a way also, universal to people in love.
The plot is rather simple - what do you do when you meet the right person at the wrong time. How do you make it work? And there is no easy answer but I do believe the right one is really to look into your heart and follow it.
Des had to deal with a lot of family-related stress and problems and grief, oh there was so much grief both characters experienced, that at times their HEA seemed impossible. She was strong and determined in an unobtrusive way, and I very much loved that about her. She is not some super woman - strong and tough and unbreakable, but she is resilient, just a human being with strengths and weaknesses, insecurities and moments of doubt.
Hefin was a rare beta hero and I absolutely loved that about him. It made him real, human, someone grieving the failure of his marriage, someone at a crossroads professionally, someone who doesn't want to hurt people but help and care about them. But at the same time he was broken inside, lost and needed the comfort and support of family, home, loved ones.
All this made their romance both intense and heart-breaking and their HEA even sweeter. On the surface the obstacles they had to overcome seemed mostly practical, but the truth is they were buried deep within them and both Hefin and Des needed to find their inner strength and resolve for their romance to happen.
I mostly enjoyed the writing, which is very lyrical and one could say flowery but it worked well for the characters. At times I found it a bit overdescriptive and felt the story needed more action and less brooding and self-doubt but I have come to realize it is just not that kind of story.
If you like tender love stories with lots of angst and self-examination and character growth, I can greatly recommend this one.