Review: My Kind of Wonderful by Jill Shalvis
04:55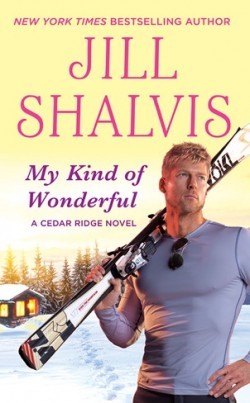 Title:
My Kind of Wonderful (Cedar Ridge #2)
Author:
Jill Shalvi
s
Date of publication:
22 Dec 2015
Genre / Themes:
Small town romance
Author's links:
Website / Twitter / Facebook / Goodreads
Add to
Goodreads
My rating:
4 Stars

Synopsis
Bailey Moore has an agenda: skiing in the Roc
kies, exploring castles in Europe, ballroom dancing in Argentina. Now that she has a second lease on life, she's determined not to miss a thing. What she doesn't realize is that item #1 comes with a six-foot-one ski god hot enough to melt a polar ice cap. She doesn't want to miss out on him either, but Hudson Kincaid isn't the type of guy to love and let go. And as gorgeous as Cedar Ridge is, she's not planning to stick around.
As head of ski patrol at his family's resort, Hud thinks he's seen it all. But never has he run into someone like Bailey. She might look delicate, but her attitude is all firecracker. And her infectious joy touches something deep within him that he's been missing far too long. Now he'll just have to convince Bailey to take a chance on her biggest adventure yet . . . something rare and all kinds of wonderful.
Review
I needed a comfort read and as usual, Jill Shalvis' romances came to the rescue.
My Kind of Wonderful (
in the second book in her latest series,
Cedar Ridge
, set in a mountain ski resort, a setting the works great for me.
This story had so many of may favourite tropes in romance - a heroine who is fragile on the outside but all tough and determined on the inside, a hero who is protective and caring, loving fiercely his family and friends but pretty clueless when it comes to his personal life.
The story touches of serious issues (serious illness), family obligations and support, moving one, accepting the past with your mistakes and really, really looking to the future.
Bailey was a great heroine, a woman trying to find her place because up to now she has been forced to look on life from the sides and make no plans for the future. She has a list of things to do but then life happens and she has to quickly adapt her list. I love how fierce and determined she was. The way she went about being honest about her feelings for Hud, not playing games, acting coy or clingy was touching and real.
Hudson was a complex character on his own. He carried so much guilt and burden on his shoulders, yet he always took time to help the other, to be there for his family and friends. Life had thought him not the rely on anyone, even the family he so dearly loved. It took him quite a while to accept the change of plans life threw at them. He did not think there was a place for a woman in his life (and heart) but Bailey surprised him and took residence in his world without really asking.
The romance was hot and tender at the same time. It started as one time thing which soon became a few more times till the forever kind of relationship. The road to Bailey and Hud's HEA was not that easy though. The constant going back and forth, especially on the part of Hud, got tiresome and annoying towards the end. I wanted him to realise what he had and what he needed in life so much sooner but alas, he just needing some more prodding and good natured ribbing by his siblings to get the picture.
I absolutely love the family dynamics Ms Shalvis builds in her stories - there so much fun and love and warmth and caring about each other - which makes me all warm and fuzzy inside.
Overall, after loving the first book in the Cedar Ridge series, Second Chance Summer (
review
), I really enjoyed this one too. It hit all the right buttons for me and left me happy with a smile on my face. A recommended read for Ms Shalvis' fans and any other lovers of contemporary romance.