Review: Evenfall Vol. 1 and 2 by Santino and Ais
01:21
This review is of
Evenfall: Vol. 1 and 2 Director's Cut
in the LGBT series
In the Company of Shadows
by
Santino Hassell
and
Ais
. It's a dystopian thriller involving secret organizations, assassins and a tender love story. The whole series is self-edited and self-published and it's available for free at
http://www.inthecompanyofshadows.com/
I had a friend recommend this book to me more than a year ago but I was intimidated by the size - 4 books with more than 1000 pages each and I felt I jusct couldn't make that committment at the time. As th year went on more and more of my friends read and loved this series. At the end of 2014 I made a promise to myself to start the new year with it and here I am in the middle of January already done with book 1.
This is more of suspense and action-packed thriller than a romance. There is great world building, enganing story, memorable characters, what more can a reader want.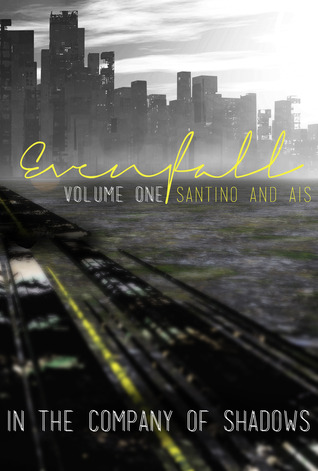 Title:
Evenfall: Vol. 1 Director's Cut
Author:
Santino and Ais
Genre:
Romantic suspense, Dystopia, M/M
Santino's links:
Website / Twitter / Facebook / Goodreads / Pinterest
Ais' links:
My rating:
Vol.1 - 4 Stars and Vol.2 - 5 Stars
Add on
Goodreads / Goodreads
Synopsis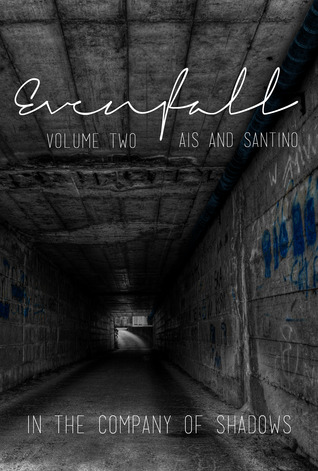 In a post-apocalyptic future, the Agency works behind the scenes to take down opposition groups that threaten the current government. Their goals justify all means, even when it comes to their own agents.
Sin is the Agency's most efficient killer. His fighting skills and talent at assassination have led to him being described as a living weapon. However, he is also known to go off on unauthorized killing sprees, and his assigned partners have all wound up dead.
Boyd is not afraid to die. When his mother, a high-ranking Agency official, volunteers him to be Sin's newest partner, he does not refuse. In fact, his life has been such an endless cycle of apathy and despair that he'd welcome death.
In the newly revised Director's Cut of Evenfall, the first volume follows these two cast-offs as they go from strangers to partners who can only rely on each other while avoiding death, imprisonment, and dehumanization by the Agency that employs them.
Review
Vol. 1 started slow with a lot of descriptions and the introduction of many characters. They were necessary to set the stage but I found them overwhelming at times. On the other hand, I did enjoy the slow development of the relationship between the main characters, Boyd and Hsin.
In terms of plot and even romantically, things picked up around the middle and the ending was the perfect cliffhanger.
The story flowed very smoothly and had me captivated from the start. We got to know the characters in real time, just as they were getting to know each other. It felt natural and realstic if that is a suitable description for a dystopian novel.
The intensity of the realtionship between Boyd and Hsin was beautifully done. They start off as strangers, both of them resigned to their fate and pretty much dead inside and gradually became true partners and friends and ultimately lovers.
It's a pleasure to read the transition in Boyd and Hsin. In the beginning Boyd is lost and desperate, there is no spark or desire to live left in him. He makes more than one mistake but they only make him human and more real. Hsin's transformation was even more amazing. I just felt so much for him. It was not a magical change happening overnight, love/sex didn't cure him. It was a slow process, painful and often misguided, yet it was Boyd's acceptance of Hsin as a human being that ultimately made Hsin see himself as human as well. Their relationship explored a lot of issues, such as self-image, vulnerability, strenght and (self)conrtol.
The romantic aspect of their relationship took center stage in the first half of Vol. 2. It was intense, and passionate and raw and tender and beautiful. This was a time of first for Hsin and I loved they were presented as unique and unfamiliar experiences for him, yet they reflected his experience in life so far. It was a re-awakening for Boyd who had loved and lost before.
The world building kept expanding, there was lots of action and the plot twists kept me on the edge.
I loved the complexity in both plot and character development and how they balance each other out. The romance is never completely lost even in the roughest times of battle and it never overtakes completely the military aspect of the story.
There are so many supporting characters I met in the series so far and I'm curious to learn more about them. Off to the next book in the series, Interludes.
Recommended read for fans of complex military stories with unexpected twists and turn and hot romance.