Review: The Deal by Elle Kennedy
04:37
What a refreshing New Adult college romance!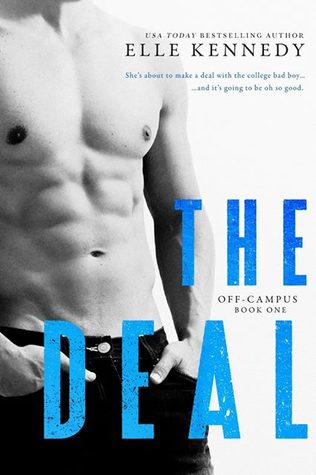 Title:
The Deal (Off Campus #1)
Author:
Elle Kennedy
Genre:
New Adult, Romance, College
Release Date:
24 Feb 2015
Author's links:
Website / Facebook / Twitter / Goodreads
My rating: 4 Stars
Add on
Goodreads
Synopsis
She's about to make a deal with the college bad boy...
Hannah Wells has finally found someone who turns her on. But while she might be confident in every other area of her life, she's carting around a full set of baggage when it comes to sex and seduction. If she wants to get her crush's attention, she'll have to step out of her comfort zone and make him take notice…even if it means tutoring the annoying, childish, cocky captain of the hockey team in exchange for a pretend date.
...and it's going to be oh so good.
All Garrett Graham has ever wanted is to play professional hockey after graduation, but his plummeting GPA is threatening everything he's worked so hard for. If helping a sarcastic brunette make another guy jealous will help him secure his position on the team, he's all for it. But when one unexpected kiss leads to the wildest sex of both their lives, it doesn't take long for Garrett to realize that pretend isn't going to cut it. Now he just has to convince Hannah that the man she wants looks a lot like him.
Review
I admit I read New Adult but I'm very picky about it since I often find it too unrealistic, angsty and the characters can be too immature. this is my first book by Elle Kennedy and it's was wodnerful - funny and sweet, with some angst but no artificial drama.
It's told from dual POV and both Hannah's (Wellsy) and Garrett's voice sounded true and very authentic for young college kids (granted I have no personal expreince of the American college system). Their fears and concerns reflected what young people generally experience when trying to find their own place/self in the world for the first time.
I'm not a big fan of fake-boyfriend trope but it was well done here and fitted the characters. Both of them had issues in their past (who doesn't) but they were not overexposed and certainky didn't overtake the romance. I even felt that Hannah's problems were treated a bit lightly, but at the same time I liked how she didn't let her past get her down and stop her from getting on with her life.
It's a typical story of young love, some immature desicionss and childish mistakes, yet it was told in an eganging way. I appreciated the witty banter between the characters, the sense of teenage humour and college shenanigans.
I really liked Hannah, but I was Garrett who stole the show in this book. He is not your typical dumb jock, yet he is a player but he was not ashamed or appologetic about it. I really liked the ambiguities and compelxity of his characters, his patience with Hannah was endearing. She was fun, and independant, and smart, though she did act pretty childishly at times.
My minor complaint is things lost their freshness and good humour towards the end. The grand gestures and declarations of eternal love didn't really fit these two young people.
In short, it's an eaasy-going, fun college love story with some humour, some great chemistry between the main characters and a wonderful cast of supporting characters. Logan is a particualr favourite of mine and I can't wait for his story (I really hope, next book will be about him).