Review: Alex by Sawyer Bennet
05:25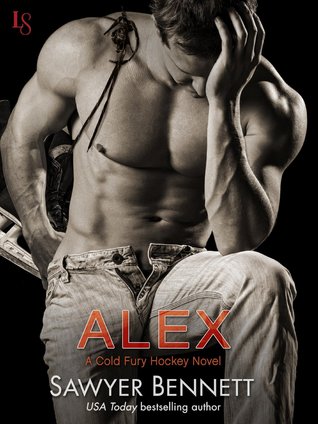 Title:
Alex (Cold Fury Hockey #1)
Author:
Sawyer Bennet
Date of publication:
14 Oct 2014
Genre:
Romance, Sports
Author links:
Website / Facebook / Twitter / Goodreads
My rating:
3 Stars
Synopsis
Hockey star Alexander Crossman has a reputation as a cold-hearted player on and off the rink. Pushed into the sport by an alcoholic father, Alex isn't afraid to give fans the proverbial middle finger, relishing his role as the MVP they love to hate. Management, however, isn't so amused. Now Alex has a choice: fix his public image through community service or ride the bench. But Alex refuses to be molded into the Carolina Cold Fury poster boy . . . not even by a tempting redhead with killer curves.
As a social worker, Sutton Price is accustomed to difficult people—like Alex, who's been assigned to help her create a drug-abuse awareness program for at-risk youth as part of the team's effort to clean up his image. What she doesn't expect is the arrogant smirk from his perfect lips to stir her most heated fantasies. But Sutton isn't one to cross professional boundaries—and besides, Alex doesn't do relationships . . . or does he? The more she sees behind Alex's bad-boy façade, the more Sutton craves the man she uncovers.
Review
I enjoy sports romance and hockey is a favourite sport of mine so I was excited when I got the chance to read this book.
I've read only one of Ms Bennet's previous books, incidentally, again about a hockey player, though it was set in college was more NA, but I was not particularly impressed. I decided to give this one a try as well and it was nice but also I had some issues with it.
It started very well with Alex being a true badboy, a world-class jerk and his background was tough enough to justify his behaviour. I was curious how he would deal with his issues. As can be expected it was his meeting Sutton that made him change his whole attitude to life.
Initially, the story was interesting with a lot of dynamics and tension between Alex and Sutton but around the middle of the book the story lost its edge and moved into cheesy territory.
It was easy to understand her attraction to him – his sex-appeal was undeniable, his bad attitude was a challenge for her to understand and help him deal with the hardships in his life in a better way.
On the other hand, we don't really get his reasons for falling for her. It was just instant attraction, pure lust and then suddenly he had deep feelings for her, making this change his whole demeanor. He turned from a jerk to a perfect gentleman in what seemed like overnight – too abrupt and unrealistic. He became kind to everybody – to Sutton and her family, to his teammates, to his brother and even to his father.
The relationship with the parents, both Sutton's with her biological father and Alex's with his own father were complex and interesting to explore. Yet, I felt that things were too easily and neatly resolved, especially for Alex. His father had abused him his whole life and then suddenly, after a serious heath scare, he just went and became a good guy, repenting about of his past mistakes, looking for forgiveness, taking care to get and stay sober.
It was all too neat and perfect which made it unrealistic and killed the raw edge the story had initially. There was also some unnecessary drama towards the end with Sutton and Alex's break up taking place over nothing.
I appreciate that Alex overcame his past and learned to be happy and ultimately won the woman of his life, yet there were too many issues in this story for me to give it more than 3 stars. If you are fan of sports romances and don't mind when things get too sweet, then, you will definitely enjoy this read more than me.