Review: The Suffragette Scandal by Courtney Milan
04:04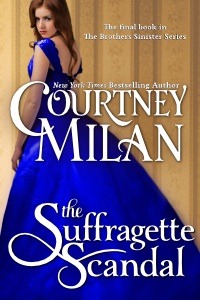 Title:
The Suffragette Scandal (Brothers Sinister #4)
Author:
Courtney Milan
Date of publication:
15 July 2014
Genre:
Historical Romance
Author's links:
Website / Twitter / Facebook / Goodreads
My rating:
4 stars
Synopsis
An idealistic suffragette...
Miss Frederica "Free" Marshall has put her heart and soul into her newspaper, known for its outspoken support of women's rights. Naturally, her enemies are intent on destroying her business and silencing her for good. Free refuses to be at the end of her rope...but she needs more rope, and she needs it now.
...a jaded scoundrel...
Edward Clark's aristocratic family abandoned him to die in a war-torn land, so he survived the only way he could: by becoming a rogue and a first-class forger. When the same family that left him for dead vows to ruin Miss Marshall, he offers his help. So what if he has to lie to her? She's only a pawn to use in his revenge.
...and a scandal seven years in the making.
But the irrepressible Miss Marshall soon enchants Edward. By the time he realizes that his cynical heart is hers, it's too late. The only way to thwart her enemies is to reveal his scandalous past...and once the woman he loves realizes how much he's lied to her, he'll lose her forever.
Review
I've been meaning to try historical romance as a genre for a while now and decided to finally try with an ARC from NetGalley of The Suffragette Scandal by Courtney Milan. My first historical. I'm glad a took the plunge and now I have to admit it was a very entertaining read.
This is book 4 in the Brother Sinister series and while I really enjoyed it, I think it would have been even better if I had read the previous books. I'd recommend to start from the beginning since there is a multitude of characters with their own background stories appearing across this series.
Ms Milan has created a whole set of great characters, both the main and the supporting ones. They all stand out and are very memorable.

It was the heroine, Free, whom I came to like the most in this story. She is everything I love in a romance novel heroine - witty, strong, independent, smart. She had strong political opinion on the place and role of women in 19th century England and she was not afraid to voice it loud and clear. But she was more than a suffragette, she was a woman, a loyal friend and sister, a passionate and gentle lover.
The hero, Edward, was a more typical character - a rogue, a scoundrel, but good and honest at heart. He was the typical hero bearing scars from his past, who saw himself unworthy of love and happiness, and he craved them. His self pity was too much at times but his journey to become a better man was very real and engaging.
Ms Milan explores a number of social and political issues acute in 19th sentury Britain but still at the heart of the story is the romance between Free and Edward. And it was remarkable in its compelxity even for a contemporary setting. They were equal in their relationship and each of them accepted the other for who she/he was. She loved the scoundrel with all his baggage and danger and he loved the suffragette and everything that goes with being one. The had to overcome major issues in order to be together but eventually both let the other be the best person they can be.

I liked how Ms Milan blended social issues and family dynamics in a seamless mix. Neither the romance, nor politics overcame the story, they just blended perfectly together.
I very much enjoyed the writing style of Ms Milan. The witty banter, the subtle sense of humour and hidden sexual innuendos. She manages the create the historical setting without being overly descriptive.
It's was a very enjoyable read for me and I can see many more historical romances joining my TBR list. First come the rest of the Brothers Sinister series, of course. A highly recommended read!