Review: Him by Sarina Bowen and Elle Kennedy
23:50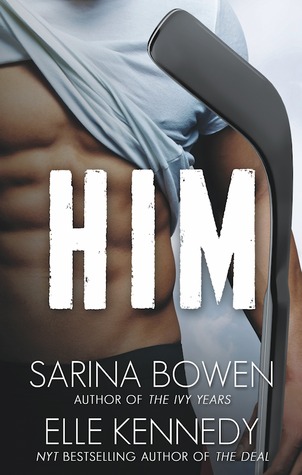 Title:
Him
Author:
Sarina Bowen and Elle Kennedy
Genre:
NA Romance, Hockey, M/M
Release Date:
28 July 2015
Author's links:
Sarina Bowen:
Website / Facebook / Twitter / Goodreads
Elle Kennedy:
Website / Facebook / Twitter / Goodreads
My rating:
4.5 Stars
Add on
Goodreads
Synopsis
They don't play for the same team. Or do they?
Jamie Canning has never been able to figure out how he lost his closest friend. Four years ago, his tattooed, wise-cracking, rule-breaking roommate cut him off without an explanation. So what if things got a little weird on the last night of hockey camp the summer they were eighteen? It was just a little drunken foolishness. Nobody died.
Ryan Wesley's biggest regret is coaxing his very straight friend into a bet that pushed the boundaries of their relationship. Now, with their college teams set to face off at the national championship, he'll finally get a chance to apologize. But all it takes is one look at his longtime crush, and the ache is stronger than ever.
Jamie has waited a long time for answers, but walks away with only more questions—can one night of sex ruin a friendship? If not, how about six more weeks of it? When Wesley turns up to coach alongside Jamie for one more hot summer at camp, Jamie has a few things to discover about his old friend...and a big one to learn about himself.
Review
This NA mm romance is a collaboration between two authors whose writing I really enjoy. I love Sarina Bowen's the Ivy Years series and I've greatly enjoyed the first two books in Elle Kennedy's Off Campus.
New adult romance, especially focused on college, is generally hit or miss for me but I'm happy to say this one definitely goes into the HIT category. It's a mm sports (hockey) romance and both characters are in their early 20s, the summer after college before both of them are to become pro hockey players. It's not set in college but in summer sports camp for teeangers and this gave it a very easygoing, time-out of real life atmosphere.
It's a curious mix of friends-to-lovers story which I quite enjoy and sort of Gay-for-You (which is not really my favourite). I very much enjoyed both Wes and Jamie though it was Jamie that stole my heart in this story.
The story is told from dual POV and we have access to the thoughts of both characters. They been best friends as children until Wes developed feelings for his friends and after one crazy night he ended their friendship.
The authors take us on Jamie's journey of self-discovery which leads him to defining himself as bisexual. Early in the story he is casually involved with a girl and I particularly liked how this relationship was developed. After him falling for another (guy) there was no hatred on either side, no additional drama. Jamie didn't end up hating women and regretting his past experiences with them. It felt natural and real. His close friendship with Wes turned into sexual exploration/lust and something he recognised as love not just between friends but between soul mates, partners.
Wes dealt with some issues of his own and while I sympathise with him and he also made me angry sometiems with his immaturity and selfishness.
I loved the interactions with the kids at the training camp, the hockey setting. The families were a little too cliche, Jamie's were fun and easy going and perfectly OK with who their son was, while Wes' were the typical distant homophobic parents.
It seems to me the story lost some momentum and shapness towards the end. I love the HEA and I'm definitely happy things worked out the way they did for the guys.Still, I felt some of the conflcits were resolved too easily, though


Another element which I liked has to do with hockey and going pro. To avoid spoilers I will only say that it was unexpected and sweet and real and made me love Jamie even more.

In a short an entertaining mm romance - sexy and fun and sweet with a generally feel-good, happy vibe. Recommended read!


PS: Sarina Bowen was already my guest in the Friday Favourites feature on the blog (
interview
) and I'm looking forward to Elle Kennedy stopping by sometime next month.