Friday Favourites #3: Sarina Bowen
00:00
Friday Favourites is a new feature on my blog where you have a chance to learn more about my favoruite authors in a blitz interview and see what their favourite books are.
This week my guest at the blog is Ms Sarina Bowen, author of the NA romance seri
es
The Ivy Years
and the Adult sport romance series,
Gravity
.
Friday Favourites
1. Favourite place
When I need to think, I like the Tower Room in the Baker Berry Library at Dartmouth College. It has that old world feel, as if you've entered the grand library of a British lord. Green velvet chairs. Heavy drapes. Sleepy undergraduates. I love the place.
2. Favourite food and drink
I love love love Mexican food. Problem: there really isn't any in Vermont. So I have to make my own. Drinks: I love prosecco! And margaritas. And wine and cider... this could be a long list.
3. Favourite music/genre/artist/song
It depends on the day of the week! While I was writing The Shameless Hour I listened to a lot of bachata music, since my character of Dominican descent is a fan.
4. Favourite movie/TV series
It's not the most original answer, but The Princess Bride is the perfect movie. Not only is it romantic and exciting, it's truly appropriate for all ages. It's hard to name another film with such universal appeal. I bow down to whomever wrote it.
5. Favourite hobby besides writing, if you consider writing a hobby
Skating and skiing! That's what a girl gets for living in the mountains--fun winter sports. When all the snow melts, we garden.
Favourite books


The top five NEW books that I'm most excited about are:
Sweet (Contours of the Heart #3) by
Tammara Webber
NA Romance
NA college hockey romance
YA LGBT realistic ficiton
NA LGBT romance
The Friend Zone (Came on #2) by Kristen Callihan
NA College football romance




*** *** ***
Meet Sarina Bowen
Sarina Bowen writes steamy, angsty contemporary romance from Vermont's Green Mountains. She lives with her family, eight chickens and too much ski gear and hockey equipment.
Synopsis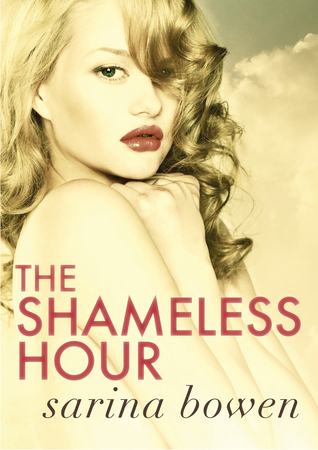 The girl who's had everyone meets the boy who has no one.
For Bella, the sweet-talking, free-loving, hip-checking student manager of the Harkness men's hockey team, sex is a second language. She's used to being fluent where others stutter, and the things people say behind her back don't (often) bother her. So she can't understand why her smoking hot downstairs neighbor has so much trouble staying friends after their spontaneous night together. She knows better than to worry about it, but there's something in those espresso eyes that makes her second guess herself.
Rafe is appalled with himself for losing his virginity in a drunken hookup. His strict Catholic upbringing always emphasized loving thy neighbor—but not with a bottle of wine and a box of condoms. The result is an Ivy League bout of awkwardness. But when Bella is leveled by a little bad luck and a downright sinister fraternity stunt, it's Rafe who is there to pick up the pieces.
Bella doesn't want Rafe's help, and she's through with men. Too bad the undeniable spark that crackles between the two of them just can't be extinguished.