Review: Taking Fire by Cindy Gerard
00:00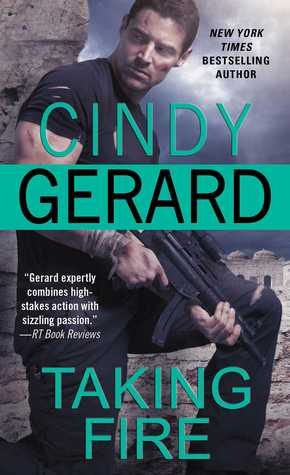 Title:
Taking Fire(One-Eyed Jacks #4)
Author:
Cindy Gerard
Date of publication:
23 Feb 2015
Genre:
Romantic suspense / Military
Author's links:
Website / Blog / Goodreads
Add to
Goodreads
My rating:
3 Stars
Synopsis
Betrayal. Retribution. Redemption?
Six years ago, tough-as-nails military contractor Bobby Taggart met the woman of his dreams in war-torn Kabul—a sexy, whip-smart war correspondent who approached him at a local bar, took him to bed, made him fall in love…and then mysteriously disappeared. In her wake, the terrorist leader he'd been mining for valuable intel was assassinated—then Bobby discovered his phone had been bugged. And he's pretty damn sure he's been played for a fool...
Review
This is book 4 in the romantic suspense series, One-Eyed Jacks. I have only read the first book, The Way Home, it was back in 2013 when it was released and I absolutely loved it. This one is a nice addition to the series. Ms Gerard creates her trademark action-packed story with likable characters, still for me it lacked the magic of the first book and ended as just a nice but not great read.
The story sticks close to the formula of a successful romantic suspense - lots of action, a well developed plot with the right amount of intrigue and twists to keep the reader on the edge. The romantic relationship was also pretty strong and I quite liked it though a few things in it didn't sit very well with me.
Bobby Taggard was a super secret agent with a big heart, so easy to fall in love with. I liked everything about him - his loyalty, his strength, the way he fell for Talia. Talia was also an amazing heroine - strong, independent woman, an undercover agent herself, but also a woman who fell for Bobby's charm and charisma.
It's a powerful second-chance romance though I have to admit that a major plot element in their romance is one of my least favourite tropes. Still, I liked the way Booby and Talia found their way back to each other. I got slightly annoyed with Bobby's hesitancy and inability/unwillingness to forgive. His behaviour can be understood when you think what he has been through but it just felt a bit too much for me at the end.
This series is a continuation of two previous series by Cindy Gerard,
The Bodyguards
and
Black Ops, Inc. I
haven't read either but we see many of the characters from them making an appearance here. This didn't detract seriously from my enjoyment of reading this book, yet I feel Bobby's story would be better appreciated if the previous books I read in advance. So, if you are a fan of Ms Gerard romantic suspense series, I think you will very much enjpy Bobby's story.