Review: All I Want by Jill Shalvis
06:10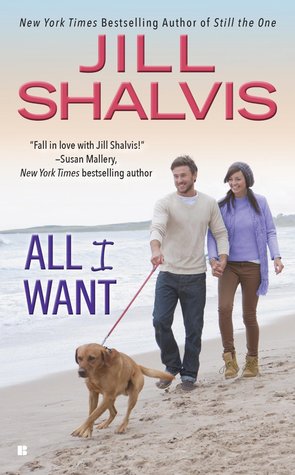 Title:
All I Want (Animal Magnetism #7)
Author:
Jill Shalvis
Date of publication:
6 Oct 2015
Genre / Themes:
Romance / Small town / Animals
Author's links:
Website / Twitter / Facebook / Goodreads
Add to
Goodreads

My rating: 3.5 Stars
Synopsis
Pilot-for-hire Zoe Stone is happy to call Sunshine, Idaho, her home base. But her quiet life is thrown for a loop when her brother's friend Parker comes to stay with her for a week. The U.S. Fish and Wildlife special agent is a handsome flirt with a gift for getting under her skin. And the situation only escalates when Parker hires her to fly him around the area while he collects evidence on a suspected smuggler.
Now she has to live and work with the guy. But when they're in the air, she sees another side of him. He's driven, focused, and sharp. And while he enjoys giving commentary on her blind dates, she quickly realizes with a shock that it's Parker who gets her engines going…
Review
This was the perfect comfort read for me - sweet and sexy. I generally enjoy Ms Shalvis romances and the Animal Magnetism series is one of my favourites.
The story follows a familiar route for Ms Shalvis - an alpha hero who is hiding a tender heart falls (against his will and his better judgement) for a lovable, strong heroine who is good at her profession but unlucky in her love life.
Some these stories work better for me, some have minor things that annoy me and make them not so perfect. This one falls in the first category.
I liked both Zoe and Parker, enjoyed their roommates romance and the crime plotline was intriguing enough without overshadowing the love story. I enjoyed the easy flow of the story, the lack of artificial drama or angst. The concerns and misgiving both Zoe and Parker had when it came to them being together rang true and believable. I understood Zoe's desire to move on with her life but I could also relate to her fears. She took the temporary nature of their arrangement, yet she couldn't help want more and when the time came, she was open and upfront about it.
Parker is obsessed with his job and falling for Zoe came as a total surprise for me. His confusion about what to do felt natural to me. He made some bad decisions but in the end he found the right path ahead. He had to make big decisions about his life and his future and this is never an easy thing to do.
Two elements of this story stand out in particular for me - Zoe is a pilot, she takes Parker as a client on different assignments and I really, really appreciate her being strong and independent and professional. I loved that she had this job that is still considered mostly suited for men, yet no one made a fuss about it. At the same time she was still vulnerable and feminine - couldn't bake and fix various repairs around the house despite being able to take care of her plane. On the other hand, Parker had this police/investigator job and he was all manly and strong and physically fit, yet he was totally adorable with the two baby kittens and he was most patient and considerate with his sister who had Dawn syndrome.
Both had the added pressure of complex family situations. Their parents and sibling made a create supporting cast in the story - supportive and funny and frustrating. The family dynamics are one the elements in Ms Shalvis' books that I particularly enjoy. They maybe somewhat idealised (brothers and sisters bickering but mostly being supporting and loving) but work well within the stories.
Fans of Jill Shalvis won't be disappointed with Zoe and Parker story.
My reviews of other books by Jill Shalvis - HERE