Review: Champion by Marie Lu
02:31
I'm joining another challenge this week. TBR Challenge 2015 hosted by
Wendy
at
Misadventures of Superlibrarian
. The topic for March was catching up with series we have neglected.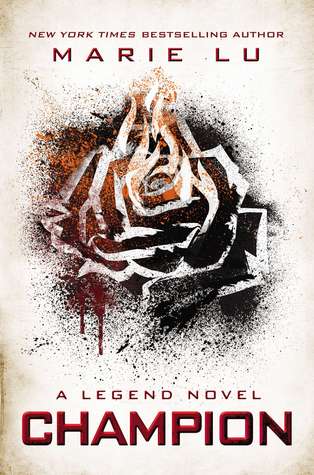 Title:
Champion (Legend #3)
Author:
Marie Lu
Date of publication:
5 November 2013
Genre/Themes:
Young adults, Dystopia
Author's links:
Website / Twitter / Facebook / Goodreads
Add to
Goodreads
My rating:
4.5 stars


Synopsis
He is a Legend.
She is a Prodigy.
Who will be Champion?
June and Day have sacrificed so much for the people of the Republic—and each other—and now their country is on the brink of a new existence. June is back in the good graces of the Republic, working within the government's elite circles as Princeps-Elect, while Day has been assigned a high-level military position.
But neither could have predicted the circumstances that will reunite them: just when a peace treaty is imminent, a plague outbreak causes panic in the Colonies, and war threatens the Republic's border cities. This new strain of plague is deadlier than ever, and June is the only one who knows the key to her country's defense. But saving the lives of thousands will mean asking the one she loves to give up everything.
With heart-pounding action and suspense, Marie Lu's bestselling trilogy draws to a stunning conclusion.
Review
I used to read a lot of YA, including Dystopian back in 2011-2012 and Marie Lu's Legend series definitely stood out among the rest. I loved books 1 and 2, they had all the element I enjoy in dystopian stories - great world building, captivating story, character development, complex plot. One of my all-time secondary characters comes from this series, June's brother, Metias, was a formidable presence in this series, even just as a memory.
Gradually, I started reading more romance and less YA, so by the time the final book was released, I got it and kind of left it on my Kindle. I've been meaning to read it for a long, I even have a wonderful board on Pinterest about it which reminds that I don't know what happened with June and Day but other books kept popping up and stealing my attention. Honestly, I don't know how I've avoided reading any major spoilers so far.
Recently, I came across the TBR Challenge on Elisabeth Lane's blog and the topic for March was reading a book in a series we need to catch up and I knew right away that now was my chance to complete this series.
I'm glad to say that Marie Lu didn't disappointment and this book was the perfect ending to a great series. The story was very dynamic, full of action and plot twists that kept me on the edge till the very end. We have alternating chapters told from dual POV and we get to see the complexity of emotions of both Day and June.
I loved their romance, their getting back together was slow and real, fraught with tension and whispered confessions. It was not overly sappy or melodramatic but just right - first time, once in a lifetime, true soulmates kind of love.

I very much enjoyed all the other characters - Anden, Eden, Tess, Pascao. Even the bad guys had a powerful presence, I particularlt appreciate the complexity of Thomas' storyline.
This was not just a romance but also coming-of-age story where we see June and Day (and Anden) slowly growing up, becoming adults amid war and chaos. I loved the mixture of painful, raw and beautiful. The decisions the characters were forced to make, all the moral dilemmas they faces resonated deeply with me.
I'm not very happy with a particular episode involving Day's mother but I understand why it was there, yet it felt too sentimental and cliched for me. It's a matter of personal preference rather than a weakness of the story.
The epilogue was brilliant. And the ending was just beautiful! (it's no spoiler that things end on a happy note with the possibility/certainty for HEA to come).
Ms Lu has a great writing style, imaginative, yet real and she manages to give her characters normal human emotions in a bleak dystopian world. It's an engaging story which involves some politics, some action, some sweet romance, overall a recommended series for fans of dystopian YA!