Review: Half a King by Joe Abercrombie
00:00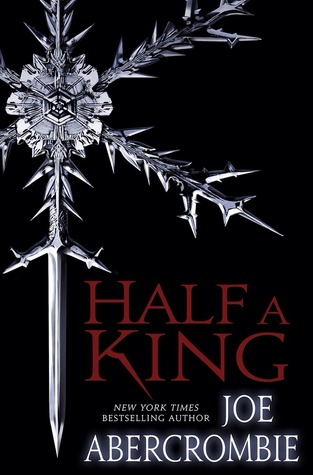 Title:
Half a King (Shattered Sea #1)
Author:
Joe Abercrombie
Date of publication:
15 July 2014
Genre:
Fantasy
Author's links:
Website / Facebook / Twitter / Goodreads
My rating:
5 stars
"I swore an oath to avenge the death of my father. I may be half a man, but I swore a whole oath."
Prince Yarvi has vowed to regain a throne he never wanted. But first he must survive cruelty, chains, and the bitter waters of the Shattered Sea. And he must do it all with only one good hand.
The deceived will become the deceiver.
Born a weakling in the eyes of his father, Yarvi is alone in a world where a strong arm and a cold heart rule. He cannot grip a shield or swing an axe, so he must sharpen his mind to a deadly edge.
The betrayed will become the betrayer.
Gathering a strange fellowship of the outcast and the lost, he finds they can do more to help him become the man he needs to be than any court of nobles could.
Will the usurped become the usurper?
But even with loyal friends at his side, Yarvi finds his path may end as it began—in twists, and traps, and tragedy.
I'm a not the biggest fantasy reader or expert out there but I do enjoy the occasional fantasy story and I have to say that this one goes straight into the list of my favourties of this year.
It's my first book by Mr Abercrombie and initially I was surprised by the sarcastic, rather laconic and blunt voice of of the main characters, Yarvi. I expected the writing to be more poetic and descriptive, typical for the fantasy novels I've read so far. I did discover that I very much enjoy Mr Abercrombie's writing style. It quickly got me deeply involved in the story and made me care about all the characters and I just couldn't put the book down.
I guessed some of the plot twists and other were a complete surprise. The story flowed nicely and I quickly grew to care for Yarvi, who is the narrator. He is an unlikely hero, a physically deformed second son, never meant to be a king or hero, yet fate had other plans for him. It was a true coming-of-age story for him and I enjoyed myself immensely following his growth from a scared, grumpy boy into a a cunning, strong young man.
The story had its fair share of political intrigues, betrayals and battles set against a complex Viking-like world with a rather unique mythological system. I found it rather curious how the author reversed the traditional male/female models in the mythology he builds in this book. We have Father Peace and Mother War, many women taking typically male positions - sea captains and navigators, king's advisers and religious leaders.
There is politics and intrigues, betrayals and bloody battles, but mostly it's a story about the human nature, about the choices that make us. Yarvi and the other characters are not perfect, they make mistakes and learn from them, they have honour and loyalty. He and the other oarsmen are on a journey, each one of them learning about themselves and friendship.
Yarvi's companions on his journey to reclaim the throne were a colourful bunch of characters and each of them added a lot to the story. Each of them had an essential role to Yarvi's growth as a person and each of them had his/her own story to tell and destiny to fulfill. They secondary characters, yet the author made me care a lot about them and I hope to see more of them in the next books in the series.
I loved the complexity of the relationships throughout the story, how they grow and change, representing a world in constant motion.
One of the reasons why I absolutely loved this book was the ending which I felt was just perfect. It completed the story in the best possible way, with a twist I never expected, yet it left plenty of room for the news plotlines to develop in the next installment of this series.
In short, I'd say this book is a MUST read for fans of well written, imaginative fantasy stories.