Waiting on Wednesday: Lay It Down by Cara McKenna
21:30
Waiting on Wednesday is a book meme hosted by Jill at
Breaking the Spine
and it features books that we are eagerly awaiting to be released.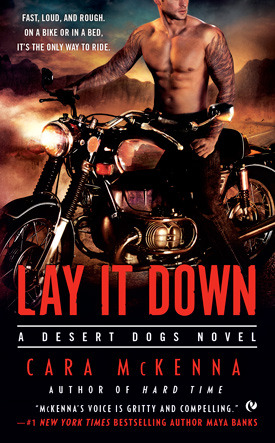 Title:
Lay It Down
Author:
Cara McKenna
Genre:
Romance, Bikers
Release Date:
5 August 2014
Pre-order:
B&N / Amazon
Synopsis
Backbreaking days, wild nights, and the hard hum of steel between your thighs...
That's a life well lived, according to the Desert Dogs—four friends who call Fortuity, Nevada, their badlands home.
Vince Grossier is the self-crowned outlaw king around here. But when Fortuity's slick new mayor invites a casino development to town, greed isn't far behind—and it claims Vince's good friend as its first casualty. With the law turning a blind eye to the mysterious death, Vince must seek his own brand of justice. The pretty photographer hired by the developers might be the key to uncovering the truth. And she's a temptation too good to pass up.
Finally free of a controlling ex, Kim Paget's not looking to be taken for a ride—not on the back of some tattooed roughneck's bike and definitely not in his bed. But when she uncovers evidence supporting Vince's suspicions of murder, Kim must entrust her safety to a man whose body threatens danger of a whole different kind.
*** *** ***
Why am I waiting for this? - One, I've a couple of Cara McKenna's previous books and I really enjoy the way she writes erotic romances. Second, I have a soft spot for biker stories and I hope this will be a good one. I already have an ARC for review and I can't wait to get to it.