Review: A Fortunate Blizzard by L. C. Chase
00:00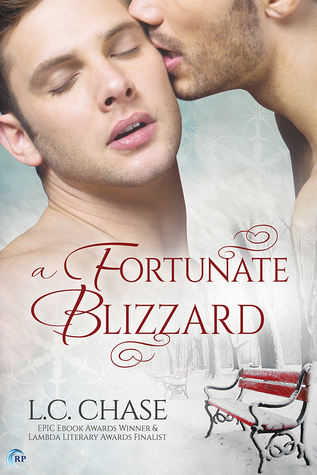 Title:
A Fortunate Blizzard
Author:
L. C. Chase
Date of publication:
2 Nov 2015
Genre:
MM romance, Holiday
Author's links:
Website / Twitter / Goodreads
Add to
Goodreads
My rating:
3.5 stars
Synopsis
There are worse things than being stranded in a blizzard.
Artist Trevor Morrison has always appreciated the little things in life, treating each day as a gift. And with good reason: he's been on the transplant-recipient list for too long now. When he learns just how numbered his days truly are, he resolves not to take them for granted. But he won't be unrealistic, either—which means romantic commitments are off the table.
Marcus Roberts seems to have it all. He's handsome, financially sound, and on the fast track to partnership at a prestigious law firm. In reality, though, his drive for success has meant no time for friends or relationships. Add in the fact that his family discarded him long ago, and he's facing yet another holiday season alone.
When the biggest snowstorm to hit Colorado in decades leaves Marc and Trevor stranded at the same hotel, a chance encounter and a night of passion leads to more than either of them expected. Finding comfort in each other is a welcome surprise, but time is not on their side. Either they find a way to beat the odds, or they lose each other forever.
Review
This is my first book by L. C. Chase and I picked it up because I was in the mood for a sweet Christmas story and it may seem superficial but I founf the cover quite appealing. I wasn't disappointed in my expectations and this turned out to be a truly sweet, sexy Christmas story.
I liked both main characters, Trevor, an artist who is living life to the fullest since his days are already numbered because of a terminal disease and Marc, a lawyer who is too focused on work and still too stuck in his past to really appreciate what he has and enjoy life.
They meet by chance in a snow storm and it becomes a fortunate blizzard for them indeed. I'm not a fan of insta love stories and here things started as just one night of passion which gradually became a few more nights and days (over the holidays). The attraction and chemistry between Trevor and Marc were strong and things developed into deep feelings fast (even a bit too fast for me), inn line with the holiday theme the romance was warm and fuzzy and made me smile a lot while reading it.
I liked how art and following ones dreams were incorporated as main themes in the story. Both Trevor and Marc had lessons to learn in life and the circumstances forced them to learn them in high speed. I liked how they completed each other, balancing their strengths and weaknesses.
The story had the perfect HEA ending, though some events en route to it, seemed too good to be true. I enjoyed the writing for the most part and the story had a nice easy flow to it. Occasionally the language seem too flowery and over-the-top poetic but it didn't bother me too much.
This story is sweet and romantic, perfect read for the holidays. A reminder that there is happiness in life and light and love are possible even when they seem the most unlikely. I usually like more realism in my romances but at the same time, some fairytale, meant-for-you forever type of love story never hurt anyone.
This is recommended read for romance lovers. Make yourself a cup of hot chocolate and snuggle warmly in bed with this love story.