Review: Rock Redemption by Nalini Singh
00:00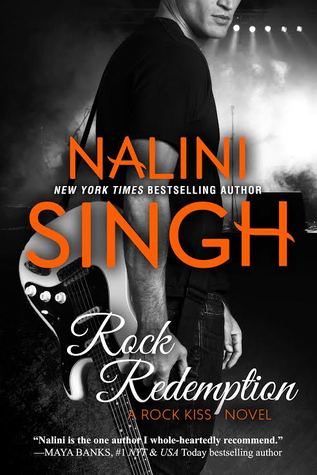 Title:
Rock Redemption (Rock Kiss #3)
Author:
Nalini Singh
Date of publication:
6 Oct 2015
Genre:
Romance, Musicians
Author's links:
Website / Facebook / Twitter / Goodreads
My rating:
3 Stars
Synopsis
Kit Devigny could have loved rock guitarist Noah St. John. Their friendship burned with the promise of intense passion and searing tenderness…until the night Noah deliberately shattered her heart.
Noah knows he destroyed something precious the night he chose to betray Kit, but he'd rather she hate him than learn his darkest secret. All he has left is his music. It's his saving grace, but it doesn't silence the voices that keep him up at night. Chasing oblivion through endless one-night-stands, he earns a few hours' sleep and his bad boy reputation.
When a media error sees Noah and Kit dubbed the new "it" couple, Kit discovers her chance at the role of a lifetime hinges on riding the media wave. Wanting—needing—to give Kit this, even if he can't give her everything, Noah agrees to play the adoring boyfriend. Only the illusion is suddenly too real, too painful, too beautiful…and it may be too late for the redemption of Noah St. John.
Review
I love Nalini Signh's PNR series Psy-changeling - the world building and the plotlines are so complex and rich and imaginative and the romance always swept me off my fit.

The Rock Kiss series is a hit or miss for me - I enjoyed David and Thea's novella, Rock Courtship and Rock Hard (Gabriel and Charlotte's story) is my favourite in the series so far. This book, very much like the first, didn't work well for me.

It's a friends-to-lovers story, with a bit of second chance romance - two tropes I quite enjoy reading. It's a slow burn, far too slow with a lot of angst and despite the HEA, I was left disappointed with a number of things.

Kit was nice but not great. I understood where she was coming from and I could accept her infatuation/love for Noah despite all the things he did to hurt her. She came off as too good to be true at times but I liked her overall until a specific moment towards the end when she made what a consider an irresponsible and plain wrong decision.

Noah was a very interesting character - bad boy rocker, a player on the outside but a deeply scarred person, bitter and disappointed and scared on the inside. He tried to keep Kit at the distance, too ashamed of his past, unable to accept her love. His reaction to what had happened to him was heart-breaking and the way he went about his life because of that was not healthy or healing.

I felt the story showed that it was Kit who saved him, that (true) love had this all-healing superpower and the message that you only need love to make things right is not one I'm really comfotable with. What went like a very much realistic, more or less plausible story suddenly lost all conenction with reality for me. It became of fairytale of the power of love which I don't mind on principle, I enjoy reading it in fact. It's just that it didn't fit with the trauma Noah had suffered. The problems he's been struggling with for decades don't just disappear on their own because a nice woman has fallen in love with him.

I can see how their connection can help them both be happier, content but to refuse and totally disregard any professional help is not OK for me. I was a rather unpleasantly by this development of the story, furthermore, Ms Singh had already dealt with similar issues of past hurt/trauma in a much convincing way in the previous book in the series, Rock Hard.

It may appear that I'm fixating on just one aspect of the story but it really bothered me and it's the main reason why I didn't end up liking this story very much.

There was moments of the magically beautiful writing I've come to expect from Ms Singh and Noah could be great at times but it wasn't enough to make me like this story more than OK.