Review: Elements of Chemistry by Penny Reid
00:00
This is a review of the complete Elements of Chemistry series - Attraction, Heat and Capture. They tell the story of the same couple and the first two end in cliffhangers and you need to read them in order before you get to the sweet HEA.
Attraction (Elements of Chemistry #1)
One week.
Private beach.
Invisible girl.
Jerk-faced bully.
What's the worst that could happen?
Kaitlyn Parker has no problem being the invisible girl, which is why she finds herself hiding in various cabinets and closets all over her college campus. Despite her best efforts, she can't escape the notice of Martin Sandeke—bad boy, jerkface bully, and the universe's hottest, wealthiest, and most unobtainable bachelor—who also happens to be Kaitlyn's chemistry lab partner.
Kaitlyn might be the only girl who isn't interested in exploiting his stunning rower's build, chiseled features, and family's billionaire fortune. Kaitlyn wants Martin for his brain, specifically to tabulate findings of trace elements in surface water.
When Kaitlyn saves Martin from a nefarious plot, Martin uses the opportunity to push Kaitlyn out of her comfort zone: spring break, one week, house parties, bathing suits, and suntan lotion. Can she overcome her aversion to being noticed? Will he be able grow beyond his self-centered nature? Or, despite their obvious chemistry, will Martin be the one to drive Kaitlyn into the science cabinet of obscurity for good?
Heat (Elements of Chemistry #2)
Four days left.
Private beach (…and boat).
Not so invisible girl.
And maybe less of a jerk-faced bully than originally thought.
What's the worst (or the best) that could happen?
Kaitlyn is finding life outside of the science cabinet of obscurity to be quite illuminating …and so are her pants.
When things heat up between Kaitlyn Parker and Martin—previously known as the jerk-faced bully—Sandeke, she places her trust in the one person she never thought capable of earning it, let alone keeping it safe. Fortunately or unfortunately for Kaitlyn, where she gives her trust she can't help but also give her heart.
But how will the world beyond the sanctuary of their newfound connection react to their relationship? Soon senators, chinless billionaires, and elements beyond Martin and Kaitlyn's control want to weigh in on the young couple's future.
Navigating the chaotic inferno of new love might be more than Kaitlyn bargained for, and much, much more than her trust—or her heart—can handle.
Capture (Elements of Chemistry #3)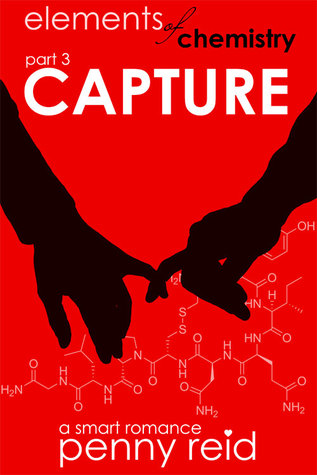 One week.
Manhattan apartment.
Super-hot ex-boyfriend.
…What's the worst that could happen?


It's been nine months since Kaitlyn Parker has seen or heard from Martin Sandeke—nine months and five stages of matter. She's lived through the worst of first-love heartbreak, and is most certainly stronger (and less likely to hide in science cabinets) than ever before.


But now Martin is back. And he wants to be friends. But he's sending mixed signals to the Bunsen burner in Kaitlyn's pants.


Will Martin re-capture Kaitlyn's heart? Can Kaitlyn and Martin ever be just friends? Or, despite an abundance of chemistry, are some bonds just too unstable to endure?
Review
I'm a big fan of Ms Ried's contemporary romcom series, Knitting in the City and was curious what she could do with younger characters in a college setting. These books were funny and much sexier than her adult series and overall, I quite enjoyed them, though I still prefer her adult series.
I felt the pacing was a bit uneven with book 2 being the weakest element in the story. I liked the final book the best and it left me in a good place, all happy and satisfied about Kaitlyn and Martin.
Ms Reid has brought her trademark humour and appreciation of socially awkward and not very neurotypical characters in her NA romance. Kaitlyn was adorable - super smart and nerdy, not really experience in matters of the heart (and body). I liked her development as a characters throughout the series. there is real growth and change and in the end we have the same nerdy girl but she is confident in herself, independent, open to follow her dreams.
While I liked Kaitlyn from start to finish, even if sometimes I thought she was acting immature, I could relate to her. My attitude towards Martin was more complex. In the beginning was acting pretty close to the typical college spoilt brat, bad boy player. He was both kind and tender with Kaitlyn and possessive and his complicated family situation partially explained his behaviour but wasn't enough for me to accept his intrusive, forceful courtship of Kaitlyn. bossiness, disrespect to everybody. Wanted a more neutral perspective on him than the starry-eyed vision of K.
I liked how Ms Reid explored complicated family/friends dynamics, I found both K and M families far from perfect and in a way both characters had to gain their Independence form them burden of family expectations/obligations. It was painful but necessary coming-of-age for both of them.
I'm generally wary of CEOs, especially, super young ones like Martin but the professional aspect of the story worked well here.
Book 3 stands a bit apart from the rest. The previous two can be read as preparation, a sort of providing the setting for the romance to develop in Book 3. It's a complete story of its own, not just because of the ending. We Kaitlyn and Martin struggling to get back together but it also shows us a lot of them as individuals.I have some minor quibbles with the way the conflict was built in the final instalment, it seemed unrealistic. While Kaitlyn was more mature and open about many things, she still acted totally clueless about obvious things (like Martin's true feelings towards her) and it didn't ring true to me and generally did a disservice to her character. I liked Martin much more than in the previous books and his gentle, albeit too stealthy and under-disguised plan for winning K back took him a while to bring to expected results.
I liked Kaitlyn's band and her bandmates were great addition to the story and very fitting. And I want Abram story, pretty please Ms Reid! There will be more NA stories by Ms Reid coming later on and though I'm curious to read them.
Purchase links (the complete set of Elements of Chemistry)