Release Day Promo for The Trouble with Mistletoe by Jill Shalvis
00:00
It's never too early for some Holiday romance reading and you cannot go wrong with this one. I was lucky to read an ARC of The Trouble of Mistletoe and let me tell you it's so good - fun and sexy and heart-warming, cat shenanigans, meddling best friends and some great hero and heroine falling in unexpected but deliciously perfect love around Christmas time.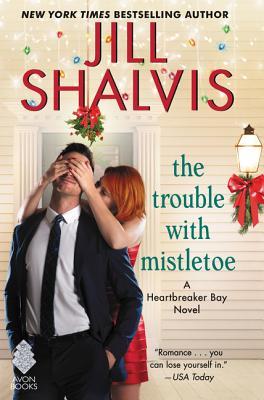 Synopsis
If she has her way . . .
Willa Davis is wrangling puppies when Keane Winters stalks into her pet shop with frustration in his chocolate-brown eyes and a pink bedazzled cat carrier in his hand. He needs a kitty sitter, stat. But the last thing Willa needs is to rescue a guy who doesn't even remember her . . .
He'll get nothing but coal in his stocking.
Saddled with his great-aunt's Feline from Hell, Keane is desperate to leave her in someone else's capable hands. But in spite of the fact that he's sure he's never seen the drop-dead-gorgeous pet shop owner before, she seems to be mad at him . . .
Unless he tempers "naughty" with a special kind of nice . . .
Willa can't deny that Keane's changed since high school: he's less arrogant, for one thing—but can she trust him not to break her heart again? It's time to throw a coin in the fountain, make a Christmas wish—and let the mistletoe do its work . . .
Author Bio and Social Links
New York Times bestselling author Jill Shalvis lives in a small town in the Sierras full of quirky characters. Any resemblance to the quirky characters in her books is, um, mostly coincidental. Look for Jill's bestselling, award-winning books wherever romances are sold and visit her website,
www.jillshalvis.com
, for a complete book list and daily blog detailing her city-girl-living-in-the-mountains adventures.
Excerpt
"You want to come upstairs, Willa?"
What she wanted was to put her hands back on his chest now that she knew it was as hard as it looked. Instead she gripped either side of her seat with white knuckles. "Of course not."
"I think you do. I think you want something else too."
"What I want," she said as coolly as she could, "is dinner as promised."
"Liar," he chided softly.
"Well that's just rude, calling your date a liar."
"So it is a date." His tone was very male and very smug. It should've pissed her off but instead it did something hot and erotic to her insides.
Clearly knowing it, he smiled at her and then dragged his teeth over his lower lip as he contemplated her.
Gah. She wanted to do that. And she wanted to do more too. She wanted him shockingly badly and suddenly she couldn't remember why she shouldn't. She tried to access her thought processes on the subject but her brain hiccupped and froze. Which surely was the only reason she let go of the death grip on her seat, slid her fingers into his hair, and . . . brushed her mouth over his.
He didn't move, not a single muscle, but when she pulled back, his eyes had gone dark as night, piercing her with their intensity.
"Don't read that the wrong way," she whispered.
"Is there a wrong way to take it when a beautiful woman kisses you?"