Blog Tour, Review and Giveaway for Razed by Shiloh Walker
00:00
Welcome to my stop of the Launch and Blog Tour for Razed by Shiloh Walker. Read a short but sexy excerpt from the story of Keelie and Zane, check my review and enter a Rafflecopter giveaway for some awesome prizes.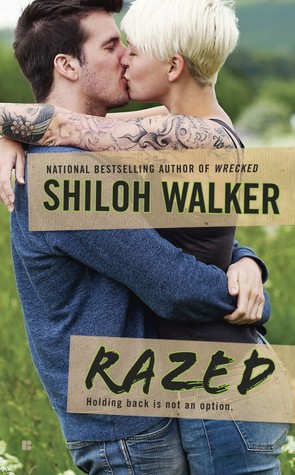 Title:
Razed (Barnes Brothers #2)
Author:
Shiloh Walker
Date of publication:
2 Dec 2014
Genre:
Romance
Author's links:
Website / Facebook / Twitter / Goodreads
My rating:
4 stars
Synopsis
Tattoo artist Keelie Jessup can handle that someone else has claimed the man of her dreams. She's just not pleased with her remaining options…
Keelie doesn't believe in the "perfect man." But the men who are worth the trouble are usually taken—like her business partner Zach Barnes. After a string of bad luck and the lost chance with Zach, Keelie decides that maybe flying solo—and living with suppressed desires—is the key to happiness.
As a photographer, Zane Barnes has an eye for the human form, and his eyes can't get enough of Keelie's curves. Unfortunately, Keelie is like most women—always fawning over his little brother, Zach. Zane is about ready to give up, but then a few stolen moments at his brother's wedding have him thinking maybe there's a chance there after all. Now he just has to prove that the perfect man does exist…for her.
Excerpt
Keelie's eyes were blind.
What in the hell was happening?
Lifting his head, he looked around, spied the narrow dip in the brick wall and he twisted, taking them inside it. The solid weight of her in his arms, the feel of her body against his was heady, a wonderful pleasure, one he didn't want to give up.
"Zane . . ." She whispered his name as he turned her around, tucking her back against his chest.
"Shhh . . ."
He could feel how close she was. Her entire body had gone rigid. He wanted to pull her skirt up, tear her panties away and sink inside. But he'd be damned if the first time he made love to her happened here . . . like this.
Still, her body trembled, a fine subtle tremor that came from deep inside. When he lay his palm on her belly, the muscles jumped at his touch. Slowly, he slid his hand down and toyed with the hem of her skirt. "May I?" he whispered, pressing his mouth to her neck.
"What?" The question was a thick, velvety caress.
He slid the tips of his fingers up. "Let me do this," he said softly. His cock jerked in jealous demand. It had better ideas, but that wasn't going to happen.
She didn't say anything, but neither did she pull away, so he slid his hand higher, the clinging material of her skirt rising up.


I haven't yet read the first book in the Barnes Brothers series but I loved this one will be going back the first as soon as I can. We meet the heroine, Keelie, in the previous book, and I as far as I understood her role was rather central but we learn everything we need to know about it in this book, so reading the series out of order was no problem for me.
This an intense, passionate love story with some angst and not too much drama, just the kind I enjoy. The strongest element was the depth of emotion Ms Walker has giver the characters. Their feelings seem real and easy to relate to.
Both characters have their demons to deal with. Keelie's past is rather painful and she still struggles with it which prevents her from living fully in the present. Her difficulty of letting go and moving one seemed over the top towards the end. Zane was the most patient and supportive man you can imagine and Keelie's continuous insistence on keeping him at a safe distance became annoying at some point.
I really liked Zane, especially his caring and supportive attitude towards everybody in his life and Keelie in particular. He was no controlling and possessive alpha male, but rather a smart loving man, giving his love and time and attention to all the people who mattered in his life. He was the sensible brother, always reliable and smart, never acting stupid or irrational, a figure everybody looked up to Still, he took his time taking his life in his hands and going for what he loved both professionally and personally
I liked how Ms Walker brought some serious issues amidst the romance in her story and blended them seamlessly with tender romantic gestures.
There is a lot to look forward to with the rest of the Barnes brothers, what we saw of Trey and Travis makes me excited to read their stories as soon as possible. In short, a recommended read for fans of contemporary romance with interesting characters and strong plotline, mixing fun and passion with some serious issues being discussed.


Giveaway
a Rafflecopter giveaway