Review: One in a Million by Jill Shalvis
04:21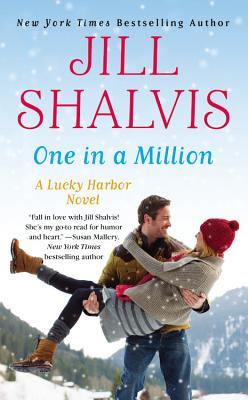 Title:
He Is So Fine (Lucky Harbor #12)
Author:
Jill Shalvis
Date of publication:
28 Oct 2014
Genre:
Contemporary Romance, Small town
Author's links:
Website / Twitter / Facebook / Goodreads
My rating:
3 Stars
Synopsis
As the brains behind wedding site TyingTheKnot.com, Callie sees it all: from the ring to the dress, the smiles . . . to the tears. It's that last part that keeps her single and not looking. Getting left at the altar will do that to a girl. But when Callie returns to her old hometown, she finds that her sweet high school crush is sexier than ever. And he makes it hard to remember why she's sworn off love . . .
Tanner is a deep-sea diver with a wild, adrenaline-junkie past—and now his teenage son is back in his life. How can Tanner be a role model when he's still paying for his own mistakes? It's hard enough that gorgeous Callie has appeared in town like a beautiful dream, challenging his best-laid plans to keep his heart on lockdown. Though there's something about being around her again that makes him feel like he can be the man she—and his son—deserve. Little Lucky Harbor holds their past; can it hold a beautiful new future
?
Mini Review
This is the final book in the Lucky Harbor series and it offered a cute romance thought it didn't end up as one of my favourites in the series.
I liked the hero and heroine (Tanner and Callie) a lot both when the were together and separately as characters. I wanted to see more of them but was often distracted by Lucille's story. The old Lucky Harbor's busybody has been a great supporting character through out this series but she took too much center stage here. We already know what to expect of her and reading about her antics over and over again felt repetitive.
Callie was cute, a bit nerdy and insecure which her background made perfectly understandable and acceptable, yet she often acted childish and immature. She seemed like the teenager who had a crush on Tanner and not like an independent young woman falling for a grown up man.
Tanner was an interesting character and I really wanted to see more of him. I have a soft spot for single dads in fiction who are struggling with the task of bringing up a child. I very appreciated Tanner's efforts to be a good dad to his teenager son and I wish their issues were presented with more depth and development.
Troy, Tanner's son was a wonderful brooding teenager and I felt he fitted very well into the story and was both endearing and realistic.
As usual, we get glimpses of characters from the previous books in the series and as always, it gave me a nice, heart warming feeling.
The story ends with the expected HEA for Callie and Tanner and unlike most of the other books which end with the proposal, here we get to see a wedding - a crazy, sweet beach weeding and it was the perfect end to this much loved series.
Now, I'm ready for some new series by Ms. Shalvis!