Review: It's in His Kiss by Jill Shalvis
05:21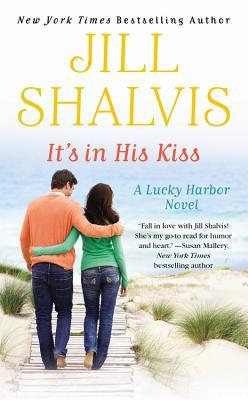 Title:
Once in a Lifetime (Lucky Harbor #10)
Author:
Jill Shalvis
Date of publication:
26 Aug 2014
Genre:
Contemporary Romance, Small town
Author's links:
Website / Twitter / Facebook / Goodreads
My rating:
4 stars
Synopsis
ONE KISS CAN LAST FOREVER
Becca Thorpe has uprooted her life and escaped to the beach. Now's her chance to get away from city living, throw caution to the ocean winds, and live in the moment. Especially if the moment includes the deliciously sexy surfer she meets shortly after arriving in Lucky Harbor. Something about the dark intensity of Sam's eyes and the thrill she gets at his touch convinces her to stay awhile.
Boatbuilder and investment genius Sam Brody is a self-made man who knows how dangerous it can be to mix business and pleasure. But he can't resist offering Becca a job just to hear her laugh and have her near. Yet when her brother comes to town asking for help, will he tempt her back to her glamorous life in the city? Or do Sam and little Lucky Harbor have a chance to win Becca's heart?
Review
This is the first book in the final set of three in Ms Shalvis' Lucky Harbor series. I generally love her romances, they are like comfort food for me - familiar and sweet, easy to read and they generally leave me with a happy smile on my face. Naturally, some of them work better for me than others and this one definitely falls in the first category - I really, really enjoyed Sam and Becca's story.
Sam was the silent, brooding type, someone reliable and with a heart too big. Becca was the new girl in town, running away from something, trying to start her life a new. I loved the romance between them and despite some obstacles, they didn't had any major dramas to deal with.

Becca underwent real growth and development through her relationship with Sam and with the other inhabitants of Lucky Harbor. She became her own person and finally found happiness in the small town community which quickly turned from a pit-stop to a final destination.
Sam seemed more static, set in his ways and views of the world. She prompted him to be more outspoken about his feeling but he was the good guy with the big heart from the start. He was just cautious with his expressing his affections into words because life had taught him to be this way.
I liked that both Becca and Sam were in their 30s, they had made their fair share of mistakes and wrong decisions and had learned from them. They had some issues to deal with and some insecurities to overcome but overall they didn't act immature or childish which I highly appreciate.


As usual, Lucky Hrobor was a fun place to be, especially for a newcomer from a big city. It was nice seeing some of the previous couples in this series and how they helped both Becca and Sam to feel welcome and at home there.
There were some funny times, some sexy times, some family times and the story was low on angst and drama, so I'd say it is a great addition to the series.