Review: Then Came You by Jill Shalvis
00:00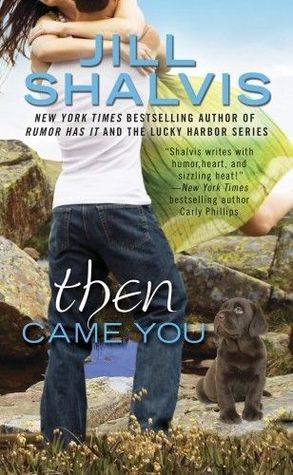 Title:
Then Came You (Animal Magnetism #5)
Author:
Jill Shalvis
Date of publication:
1 July 2014
Genre / Themes:
Romance / Small town / Animals
Author's links:
Website / Twitter / Facebook / Goodreads
My rating:
3.5 Stars
Synopsis
Veterinary intern Emily can't believe she wound up in the small town of Sunshine, Idaho, instead of the Los Angeles clinic she had always imagined. Now she has to put her plans to move to L.A. on hold for a whole year while she fulfills the obligation of her vet school scholarship.
Then Wyatt, her gorgeous one-night stand from a Reno vet conference, introduces himself as her new boss. And Emily is just as drawn to his seductive looks and quiet strength as she was on that very steamy night. She soon learns that Wyatt isn't just a laid-back doctor, but a delicious alpha male tempting her away from her carefully laid-out plans...
Review
It's another sweet and sexy romance by Jill shalvis in her Animal Magnetism series about the sexy vets in Bell Haven. This time we have two vets trying to stay away from each other and failing.
I liked the story a lot. Emily was easy to relate to. She is city girl with a plan and her plan doesn't include 1-year internship in Idaho, further more under the supervision of her one and only one-night stand, Dr. Wyatt Stone.
She is a well developed, believable character and all her preoccupations and fears of staring a relationship with someone seem very real. She carried the burden of her background and coming from a family who struggled financially all the time, she wants more for herself and works hard to get it.
Wyatt was her opposite in many respect. His comes from riches but his parents care more about saving the world than about the well-being of their children. He wanted to settle down, to take roots in Sunshine, Idaho and he wanted to do it with Emily. Yet having grown up deprived of any choice as to his, as an adult he believes in giving the other person freedom to do as they please. He never insists, demands, to the point of coming off as disinterested. It took some good-natured nudging from his sisters and friends for him to actually fight for his love.
The affair between Emily and Wyatt as passionate and steamy from the start, yet they both guarded their hearts. Initially, Emily tried to keep things casual and didn't want to deepen them. Then she wanted him to fight for her, to aks her to stay. She felt insecure because he was too closed off about his feelings, trying to respect her wishes.
I loved the scene in the bar at the end with Wyatt writing Emily a message on a napkin. It was just hilarious.
We have the usual colourful secondary characters complementing the main couple - his 2 sisters and her 1 sister and I enjoyed the interactions between them. We also see some of couples from the previous books but I expected a closer connection between Wyatt and rest of the guys in Belle Haven. He felt a bit on the outside.
Overall, it's a good addition to the series, though my most favourite. I can recommend this book to all fans of Ms Shalvis' writing and to anyone in the mood for a quick the light sexy romance.
Purchase links:
My reviews of other books by Jill Shalvis: