Review: Hold Me by Courtney Milan
02:21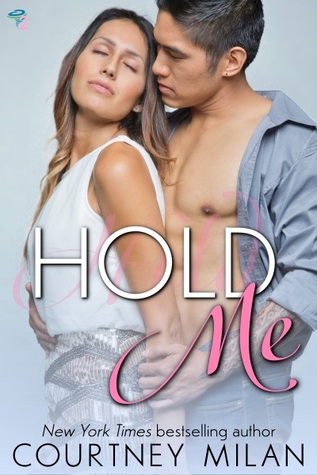 Title:
Hold Me (Cyclone #2)
Author:
Courtney Milan
Genre/Themes:
New Adult, academics
Release Date:
25 Oct 2016
Author's links:
Website / Twitter / Facebook / Goodreads
Add on
Goodreads
My rating:
4 Stars
Blurb
Jay na Thalang is a demanding, driven genius. He doesn't know how to stop or even slow down. The instant he lays eyes on Maria Lopez, he knows that she is a sexy distraction he can't afford. He's done his best to keep her at arm's length, and he's succeeded beyond his wildest dreams.
Maria has always been cautious. Now that her once-tiny, apocalypse-centered blog is hitting the mainstream, she's even more careful about preserving her online anonymity. She hasn't sent so much as a picture to the commenter she's interacted with for eighteen months—not even after emails, hour-long chats, and a friendship that is slowly turning into more. Maybe one day, they'll meet and see what happens.
But unbeknownst to them both, Jay is Maria's commenter. They've already met. They already hate each other. And two determined enemies are about to discover that they've been secretly falling in love.
Review
I have been waiting for this for what feels forever, ever since I read the first installment in the series last year. We meet Maria in book 1 and I was excite to for her to get her romance. And what a treat her (and Jay's) story was!
It is really difficult for me to review without giving out a major spoiler though but I will try. This is an entertaining read, often funny but heart-breaking at the same time. This is an interesting take on the enemies(friends)-to-lovers trope and I found it fascinating the way the author explored how people presented and interacted online and how different they can be offline.
I loved how full-fledged and real the characters felt. They both have personal and professional (academics) struggles going on. They are complex people, smart and focused on their work/studies, yet they are both vulnerable, shy even, in their own ways. I loved the contrast between their texting and their interactions in real life. It's so easy to make the wrong assumption, to hurt someone, even if you don't mean too and there is no taking it back. Just working through it, accepting it as part of your common history.

The personal traumas Jay and Maria had as their baggage is no minor thing but it was never exploited by the author for superficial drama and angst. It was real and painful and was dealt with in the proper way - with the help of professionals. In a sense Maria was more stable, her own person, though she nearly broke because of all the hurt she suffered. Yet it was Jay who had more work to do to deal with his past/present. His growth was painful and slow and I really appreciate the author presenting it as an everyday struggle. You don't become a different, better person overnight.There were setbacks and mistakes and by the end he was by no means perfect, but he was aware of his mistakes and weaknesses and was actively trying to do better by himself, his family, his friends and most importantly, by Maria.


The second half of the story, after the big reveal, was very emotional. overcoming hurt and gaining someone's trust is one of the most difficult things in life. Forgiveness is not easy to ask/give.
There were lots of science bits and humor in the story which I loved despite being terrible at science myself. I found the presentation of the academic world very realistic based on my my experience - I could easily relate to all the pressure, the expectations, the struggles to stay on top, to insecurity what you will do next.
We see more of the Cyclone family which I really liked. The next book will revisit Blake and Tina and I am not sure how necessary that is but I am curious how the author will develop their story further.
If you a looking for well written, smart contemporary NA romance with diverse characters living real lives (with a bit of science/computer geniuses, billionaire entrepreneurs on the side), I strongly recommend this series!