Review: Beard Science by Penny Reid
00:00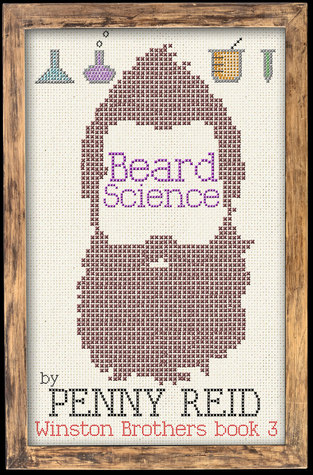 Title:
Beard Science (Winston Brothers #3)
Author:
Penny Reid
Publication Date:
11 Oct 2016
Genres:
Contemporary, Humor, Romance
Author's links:
Website • Twitter • Facebook • Goodreads
Add to
Goodreads
My rating:
4.5 Stars
Blurb
Make a deal with the devil and you might get what you want, but will it be what you need?
Jennifer Sylvester wants one thing, and that one thing is NOT to be Tennessee's reigning Banana Cake Queen. Ever the perpetual good girl and obedient daughter, Jennifer is buckling under the weight of her social media celebrity, her mother's ambitions, and her father's puritanical mandates. Jennifer is officially desperate.
And desperate times call for Cletus Winston.
Cletus Winston is a puzzle wrapped in a mystery covered in conundrum sauce, and now he's in a pickle. Despite being convinced of his own omniscience, extortion by the exalted Banana Cake Queen of Green Valley has taken him completely by surprise. So... what's a maniacal mastermind to do?
Likely, the last thing you expect.
This book is yet another winner for Penny Reid. I've enjoyed the previous two Winston brothers books but this one is my favourite. And to be honest, I didn't expect it to be. Based on what I had seen of Cletus prior this book, I found him too weird, over-the-top scheming and controlling. And he is all that but they way his character changed and evolved in Beard Science, it just blew my mind away.

Seeing this super smart, conniving, self-assured man who appeared unassuming and people generally underestimated, losing all control and coming completely undone by the unlikeliest woman, wow, just wow, it was such a pleasure to read.


I really like all all the Winston brothers (and Drew and Ashley) and their appearances here made for fun and entertaining story. We get the typical nerdy and super smart humour that we have come to expect fro Ms Reid's characters. And Cletus does take the top place of evil genius. He often appears crazy and weird to the eye of the outsider, even to his own siblings but what we see from him here is a caring, loyal brother and friend and the best, most dedicated and romantic boyfriend.
I have to admit that Jenn is not my favourite heroine of Ms Reid's that I have read. People see her as the Banana Cake Queen but under her costume and staged behaviour, she was so much more. She turns out to be an equal to Cletus in ingenuity and smarts. And just like him she was pretty good at hiding them from everybody. It took me a while to warm up to her (she appeared too weak and spineless at the beginning) but she did grow and change a lot in the course of the story and while she did not become an entire new person, she revealed her true colours and they were beautiful.
Overall this is a fun, crazy beautiful love story with some over-the-top quirky characters that you can't help but fall in love with. I feel safe to say that Ms Reid has become the queen of quirky, yet adorable characters, both men and women who stand out from the rest and are not afraid to be themselves.
I strongly believe that everybody deserve love and finding happiness and personal fulfillment is why I love reading romance. Reading a well written clever story of weird and awkward people finding their soulmates is such fun and satisfying experience for me. Now, I really, really need Billy's story but it's Beau that we get next and I can't wait to see how his romance with a certain someone whom we have already met develops. Recommended read!