Review: Nobody but You by Jill Shalvis
00:00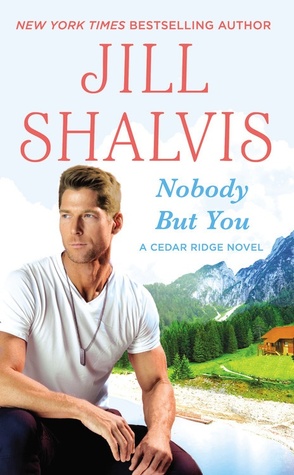 Title:
Nobody but You (Cedar Ridge #3)
Author:
Jill Shalvi
s
Date of publication:
29 March 2016
Genre / Themes:
Small town romance
Author's links:
Website / Twitter / Facebook / Goodreads
Add to
Goodreads
My rating:
3 Stars





Synopsis
SOMETIMES YOU CAN GO HOME AGAIN…
After an overseas mission goes wrong, Army Special Forces officer Jacob Kincaid knows where he must go to make things right: back home to the tiny town of Cedar Ridge, Colorado. All he needs to scrub away his painful past is fresh mountain air, a lakeside cabin, and quiet solitude. But what he discovers is a gorgeous woman living on a boat at his dock.
Sophie Marren has nowhere else to go. She's broke, intermittently seasick, and fighting a serious attraction to the brooding, dishy, I'm-too-sexy-for-myself guy who's now claiming her dock. Something about Jacob's dark intensity makes her want to tease—and tempt—him beyond measure. Neither one wants to give any ground . . . until they realize the only true home they have is with each other.
Review
I was curious to read Jacob's story from the start of this series but things got even more exciting in the previous book, which was about his twin brother. And I also have a big soft spot for war heroes, so I couldn't wait to meet Jacob.
And he turned to be all I expected from him and then some more. I loved everything about his character, I understood his frustration and worries and really appreciated his efforts to return to his family and to ask for their forgiveness and acceptance the only way he knew how.
His unexpected romantic affair was really sweet and very emotional at the same time. It took both Jacob and Sophie by surprise and neither of them it as anything long-term until it was too late for either of them to back away.
I liked Sophie, her determination and decisiveness to go forward with her life on her own coupled with her occasional clumsiness and total obliviousness, were mostly adorable. AT times they felt too much - she seemed immature and childish to me, especially in her anger towards her ex and his flings. I understand and sympathize with her anger and hurt but her tricks and vengeance felt petty and really beneath her.
A thing a like about Jill Shalvis' series in general is the sense of friendship and brotherhood/sisterhood she creates among the characters. I love their banter, the friendly teasing and ultimately their loyalty to one another and the sense that your family/close friends always have your back and accept you as you are. I expected this to have a more central role here, especially with Jacob and Hud being twins but I found it missing.
We saw a lot of the brothers and their sister but for me it lacked the familiar warm feeling of community, their partners made just a few brief appearances. I wished we saw more of all of the characters coming together. Kenna's love life also caught me by surprise and it felt a bit rushed and out of place.

Overall, this story is a nice addition to the series, with a hero whom I greatly enjoyed and heroine who was cute but also a bit annoying. The romance and chemistry between Jacob and Sophie were strong and heart-warming.