Review: Truth or Beard by Penny Reid
00:00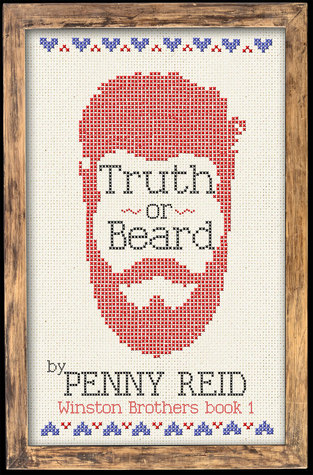 Title:
Truth or Beard (Winston Brothers #1
)
Author:
Penny Reid
Publication Date:
23 July 2015
Genres:
Contemporary, Humor, Romance
Author's links:
Blog • Twitter • Facebook • Goodreads
Add to
Goodreads
My rating:
4.5 Stars
Synopsis
Beards, brothers, and bikers! Oh my!


Identical twins Beau and Duane Winston might share the same devastatingly handsome face, but where Beau is outgoing and sociable, Duane is broody and reserved. This is why Jessica James, recent college graduate and perpetual level headed good girl, has been in naïve and unhealthy infatuation with Beau Winston for most of her life. His friendly smiles make her tongue-tied and weak-kneed, and she's never been able to move beyond her childhood crush. Whereas Duane and Jessica have always been adversaries. She can't stand him, and she's pretty sure he can't stand the sight of her…
But after a case of mistaken identity, Jessica finds herself in a massive confusion kerfuffle. Jessica James has spent her whole life paralyzed by the fantasy of Beau and her assumptions of Duane's disdain; therefore she's unprepared for the reality that is Duane's insatiable interest, as well as his hot hands and hot mouth and hotter looks. Not helping Jessica's muddled mind and good girl sensibilities, Duane seems to have gotten himself in trouble with the local biker gang.
Certainly, Beau's magic spell is broken. Yet when Jessica finds herself drawn to the man who was always her adversary, now more dangerous than ever, how much of her level-headed heart is she willing to risk?
Series Description:
Everyone in Green Valley, Tennessee knows that the six bearded Winston brothers have been imbued with an unfair share of charm and charisma… and are prone to mischief.
Truth or Beard is book #1 in the Winston Brother's series. Each book is a standalone, full length (120k words), contemporary romantic comedy novel, and follows the romantic exploits and adventures of one of the six Winston Brothers.
My Review
This is book 1 in a spin-off series to the Knitting in the City series of romantic comedies. We met the six Winston brothers in Beauty and Mustache (review) and they completely won me over with their unique type of hillbilly/gentlemanly charm.
I really, really loved this story. It has the trade-mark Penny Reid's humour and awkwardness, smart and sassy heroes and heroines. Duane is one of the ginger twins and he was such a well developed character, curious and in typical for Ms Reid style - a mix of contradictions. Just when you think you know who he is - a hillbilly small-town mechanic and you are thrown in for a loop - he is romantic and gentle, devoted to his family and friends, loves his woman with a passion but is willing to let her go if that is what will make her happy. I absolutely loved his gentlemanly and old-fashioned courtship of Jessica. It was sweet and over-the-top and absolutely irresistible. He tried so hard to make everything perfect which naturally doesn't work in real life but his tenacity, in a way his stubbornness won my heart forever.
Jessica is another strong, independent heroine Ms Reid has created. She just got her degree in math science and is teaching at the local school, while saving money to fulfil her dreams of travelling the world. I loved her a lot, though for me Duane stood out more.
What I particularly appreciated in the romance is that he didn't make her change for him, he realised that making her give up her dream for him would eventually made her desirable. I didn't really buy her fear of permanence, her reluctance to accept him in her life. I respect that she had dreams she wanted to pursue and they didn't include the conventional find true love, settle down and have family and kids. It was just difficult for me to relate to her stubborn refusal to accept that life throws surprises in your way and need to adapt to them. And these were even the good kind of surprises. Maybe her dreams were just too different from my personal views on life but still, I appreciate how they tried to find a way to be together without either of them giving up their dreams. They were ready to come up with new common dreams.
Some plot twists and turns were quite surprising and didn't make much sense initially but I believe their deeper meaning will be revealed as the series progresses.
I absolutely loved the humour in the story and the drama in the Winston family was engaging and made be anxious about the stories of the rest of the brothers.
I've read all of of Ms Reid' books so far and can honestly say that her romantic comedies (Knitting in the City and Winston Brothers series) work best for me. She is an autobuy author for me and these series are my perfect comfort read - sweet and quirky and fun and a little bit sad and serious. She creates a rich colourful world full of odd-ball characters. Penny Reid plays with words so skillfully and it's always a pleasure to follow her word games and obscure pop culture/science references. Can't wait for the next Winston brother to fall in love!