Review: Still the One by Jill Shalvis
04:24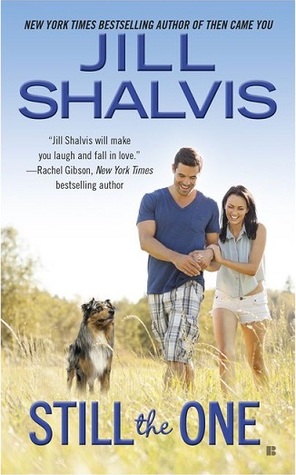 Title:
Still the One (Animal Magnetism #6)
Author:
Jill Shalvis
Date of publication:
7 April 2015
Genre / Themes:
Romance / Small town / Animals
Author's links:
Website / Twitter / Facebook / Goodreads
My rating:
3 Stars

Synopsis
Darcy Stone is game for anything — except sexy Navy veteran and physical therapist A.J. Colten, the guy who'd rejected her when she'd needed him most. Now the shoe is on the other foot and he needs her to play nice and help him secure grants for his patients. Unfortunately, Darcy can't refuse. She needs the money to fund her passion project: rescuing S&R dogs and placing them with emotionally wounded soldiers.
A.J. admits it — Darcy is irresistible. But he's already been battle-scarred by a strong-willed, vivacious, adventurous woman like Darcy, and he's not making the same mistake twice—until he and Darcy are forced to fake a relationship. Growing closer than they'd ever imagined possible, Darcy and AJ have to ask themselves: how much between them is pretend? What's the real thing? And where does it go from here?
Review
I've said it before that Jill Shalvis' book are my comfort reads, sometimes they work better, sometimes - worse but I love the familiar writing style, the warmth and security of the relationships she creates.
The Animal Attraction series are one of my favourite of hers and the blurb for this latest installment really drew me in. I had very high expectations of this story and loved some bits of it but there are a few things that threw me off and it ended a nice, but a bit annoying 3-star read for me.
I admire strong characters, overcoming physical and emotional trauma and naturally, I loved Darcy. Her fears felt real, her courage and openness were much appreciated. Her attraction to AJ and her sense of rejection were well presented and this made them believable. She was a real human being - a little reckless, a lot of spunky and sassy, yet vulnerable, tender, caring. She knew had made mistakes and will probably make more in the future, she had issues with her body image after her accident.
AJ, on the other hand, came off a bit as super human - all cool, calm and collected, a responsible adult who had his life figured out. At least that's how Darcy saw him and that's how he acted most of the story. His reluctance to risk his heart with Darcy did piss me off. I wanted him to man up and go for what he wanted, consequences be damned.
There were some heartbreaking descriptions of Darcy's daily physical struggles and her difficult road to recovery but I was disappointed how it all was glossed over in the love scenes. There was not a hint of physical discomfort, pain, strain, or anything like that, while we kept seeing this things happening in her daily activities all the time.
I liked the glimpses of Dacry's brother and sister, AJ's dad, Xander and Tyler plotlines, and the "other" woman from the gym. They did create the warm small-town, close-knit family and friends atmosphere I enjoy in Ms Shalvis' novels. What I didn't like were Trent and his wife - they seemed really cheesy to me and out of place in the story.
I also got annoyed with the constant miscommunication between Darcy and AJ, and the eavesdropping scene is a trope in romance I absolutely hate. Acting out and not really discussing things happened one too many times and felt forced.
On the good side, I loved the animal theme here. I'm not a big fan of animals in general, to be honest, I'm scared of them and prefer watching from afar rather than interacting directly. Still, I love how Ms Shalvis' pours her own love of animals in her stories. It's touching and never overly sentimental.
Fans of Jill Shalvis will enjoy this novel, though it's not my favourite in the series.