Waiting on Wednesday: Nothing Like Paris by Amy Jo Cousins
21:30
Waiting on Wednesday is a book meme hosted by Jill at
Breaking the Spine
and it features books that we are eagerly awaiting to be released.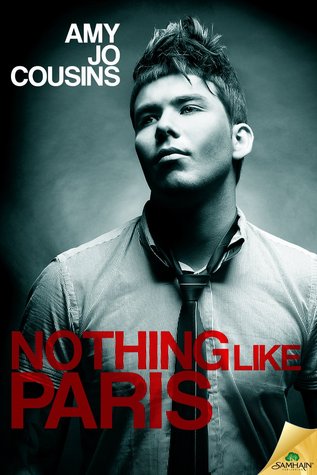 Title:
Nothing Like Paris (Bend or Break #2)
Author:
Amy Jo Cousins
Genre/Themes:
Romance, New Adult, M/M
Release Date:
3 March 2015
Add on
Goodreads
Pre-order:
Amazon / B&N / Kobo / iBooks.
Synopsis
Humble pie wasn't supposed to taste this sweet.
Jack Tarkington's life is in the toilet. He was supposed to be spending his junior year studying someplace cool like Paris or Rome. Instead, after taking out his anger on the campus "golden boy", whose dad ripped off his parents, Jack is facing possible expulsion.
Sure, it's all his own fault, but coming back to the small Iowa town he thought he'd escaped, after crowing about his admission to a prestigious school, has been a humbling experience.
When he runs into Miguel, Jack braces for backlash over the way he lorded it over his old friend and flame. Instead, Miguel offers him friendship—and a job at his growing farm-to-table store and café.
Against the odds, both guys bond over broken dreams and find common ground in music. But when Jack's college gives him a second chance, he's torn between achieving a dream that will take him far from home, and a love that strikes a chord he'll never find anywhere else.
Warning: This book contains a humbled guy who's on the brink of losing it all, a determined entrepreneur who seems to have it all together, apologies issued through banjo-picking duets, and two lovers who can play each other's bodies like virtuosos.
*** *** ***
Why am I waiting for this?
- I recently read the first book in the series, Off Campus (
my review
), and I quite enjoyed it. These are New Adult series (first two books are m/m but the third will be f/m) which I find very well and engagingly written. This is Jack's story and he was sort of the bad guy in the first book, so I'm curious how Ms Cousins will turn things around with him.