Review: Holding Strong by Lori Foster
13:32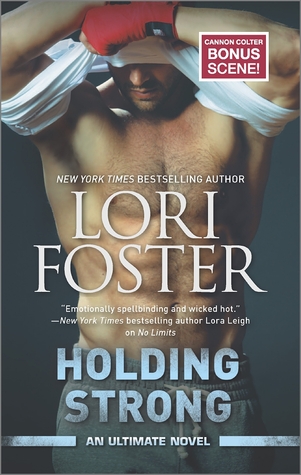 Title:
Holding Strong (Ultimate #2)
Author:
Lori Foster
Genre:
Romantic suspense, MMA fighters
Release Date:
31 March 2015
Author's links:
Website / Twitter / Facebook / Goodreads
My rating:
3 Stars
Add on
Goodreads


Synopsis
An up-and-coming MMA fighter wants more than just one night from a woman fleeing her past in New York Times bestselling author Lori Foster's irresistible new novel
Heavyweight fighter Denver Lewis plays real nice, but he doesn't share. That's why he's been avoiding top-notch flirt Cherry Peyton. But a man can only resist those lush curves for so long. Their encounter surpasses all his fantasies, bringing out protective urges that Cherry's about to need more than she knows…
Denver's combination of pure muscle and unexpected tenderness has been driving Cherry wild. Yet no sooner does she get what she's been craving than old troubles show up on her doorstep. And this time, Cherry can't hide behind a carefree facade. Because the man by her side is one who'll fight like hell to keep her safe…if only she'll trust him enough to let him.
Review
This is the second novel in the series after a full-length book on Cannon and a novella on. It's a nice MMA fighter romance but I felt it lacked something to make it stand out and there are a couple of things in it that really annoyed me.

There were far too many cliches which made the story predictable and somewhat boring. At the same time, the conflict seemed over the top and unrealistic which added to my overall disappointment.

The hero and heroine presented the whole set cliches about femininity and masculinity. She is cute and sweet, the damsel-in-distress and he is the big alpha fighter who comes and saves her. Both of them are sexy in very classical sense and they seem too good (in appearance) to be real.

Cherry acted immature and childish a lot of the time and it was annoying though Denver's character compensated for this. He was a bit of caveman - over-protective and possessive but I think his back story was good ground for his behaviour and he did work hard to tone it down and be a better partner to Cherry.

Cherry and Denver's story is similar in many ways to Cannon and Yvette's. Unfortunately, Cherry did have a lot of the characteristics which I hated in Yvette - naive, childish, stubborn.

The romantic relationship started really abruptly and it happened too fast. There wasn't much development at the beginning but towards the end, things seemed more realistic.

I did love the other fighters and their easygoing camaraderie, they were teasing each other all the time, yet they stood up by and supported each other when the occasion arrived.

I liked the side stories of Stack and Vanity and the additional peaks we get of Armie who is my absolute favourite in this series. There were two distinctive secondary plots which I found a bit distracting though they both facilitated the development of the main plot.
It's a sweet romance, a bit over-the-top, a bit predictable and cliched but fans of contemporary romance, especially involving alpha male fighters and cute, a bit clueless heroines, would enjoy this.