Review: Burn Down the Night by Molly O'Keefe
00:00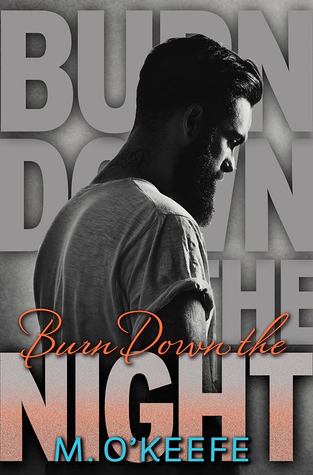 Title:
Burn Down the Night (Everything I Left Unsaid #3)
Author:
M. O'Keefe
Date of publication:
9 Aug 2016
Genre/themes:
Erotic Romance
Author's links:
Website / Twitter / Facebook / Goodreads
Add to
Goodreads
My rating:
4.5 Stars
Blurb
The only thing that matters to me is rescuing my sister from the drug-cooking cult that once enslaved us both. I've run cons my whole life, and I'll use my body to get whatever I need. Max Daniels is the last connection I have to that world, the one person reckless enough to get involved. Besides, now that his brothers have turned on him, he needs me too.
The deal was supposed to be simple: a place to hide in exchange for rescuing my sister. Now he's my prisoner. Totally at my mercy. But I'm the one captivated. Enthralled. Doing everything he asks of me until I'm not sure who's in control.
We both crave the heat. The more it hurts, the better. But what if Max wants a different life now, to leave the game . . . to love me? I thought I knew better than to get burned. Now I'm in too deep to pull away. And the crazy thing is . . . I don't want to.
Review


I'm a big fan of Ms O'Keefe's writing and this series are really breaking my heart. Max and Joan's story is even more powerful, intense, darker than the Annie and Dylan's.
I had the impression that Joan was actually older because of the self-confidence and assured way in which she acted with in the first book. What we see here is that she is in fact much younger, her confidence and bravado is mostly on the outside, a mask she wears to protect herself.. In fact the Joan we get to know in this story is very much lost and in doubt about everything in her life.
Max, well, he is the rough and tough and ruthless biker club president we expect him to be. At the same time he is put in the rather unusual situation of being on the run from his club brothers and at the same time being held hostage by Joan. All this brings out a whole new side of his character to light which was fascinating to see.
There is lots of sexual tension in this story as usual in Ms O'Keefe's romances. A lot of their misery and frustration and anger at the world and the hard life they had to deal with, was expressed through the sex they had. The angry, punishing sex they had did push my comfort level but at the same time I liked how it led to Max an Joan opening to each other and becoming truly intimate.
They are so much similar, both hardcore, angry and impulsive, yet desperate to make things right, loyal to their families but also plagued by their pasts and mistakes they have made. All this makes it rather difficult for them to express love and affection, either romantically or for their families in general. Giving up on all their coping mechanisms and survival mechanisms is a slow and painful process. It was not easy for either of them to dare to hope, to dream of a future they could look forward to.
Overall, I would describe this romance as a powerfully erotic story with a touch of danger but well within the limits of consent and doing (sexual) things everyone enjoyed (even the one-time with a third party involved). I liked how the characters presented their sexuality without judgement. Joan's bisexuality wasn't an issue for anyone and it was also not made into a shocking element in the story.
I'm sure fans of Ms O'Keefe will enjoy this romance and if you haven't read her books before and you like exquisitely written, intense erotic romance, I strongly urge you to give this series a try. While
Burn Down the Night
can be read as a standalone, it's even better if you read the previous two books (which go together) -
Everything I Left Unsaid
(
review
) and
The Truth About Him
(
review
).