Review: Grin and Beard It by Penny Reid
00:00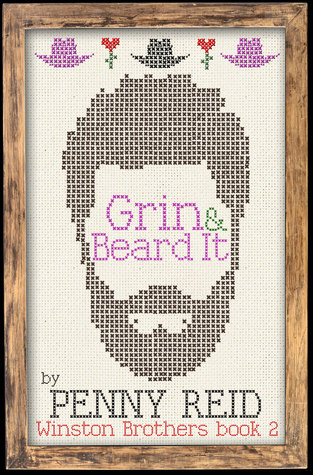 Title:
Grin and Beard It (Winston Brothers #2)
Author:
Penny Reid
Publication Date:
31 May 2016
Genres:
Contemporary, Humor, Romance
Author's links:
Website • Twitter • Facebook • Goodreads
Add to
Goodreads
My rating:
4.5 Stars
Blurb
Sienna Diaz is everyone's favorite "fat" funny lady. The movie studio executives can't explain it, but her films are out-grossing all the fit and trim headliners and Hollywood's most beautiful elite. The simple truth is, everyone loves plus-sized Sienna.
But she has a problem, she can't read maps and her sense of direction is almost as bad as her comedic timing is stellar. Therefore, when Sienna's latest starring role takes her to the Great Smoky Mountains National Park she finds herself continually lost while trying to navigate the backroads of Green Valley, Tennessee. Much to her consternation, Sienna's most frequent savior is a ridiculously handsome, charming, and cheeky Park Ranger by the name of Jethro Winston.
Sienna is accustomed to high levels of man-handsome, so it's not Jethro's chiseled features or his perfect physique that make Sienna stutter. It's his southern charm. And gentlemanly manners. And habit of looking at her too long and too often.
Sienna has successfully navigated the labyrinth of Hollywood heart-throbs. But can she traverse the tenuous trails of Tennessee without losing her head? Or worse, her heart?
Review
I loved the first Winston Bothers book and had high hopes for this one too and I'm so glad my expectation were more than met in this story.
This romance where a Latina Hollywood star meets the Tennessee hillbilly and reformed criminal Jethro offers the delightful mix of fun and serious with some crazy sense of humour which readers have come to expect from Ms Reid's books.
This time Ms Reid ventures into new territories with the character of Sienna. She is one of Ms Reid's long list of strong, smart, sexy heroines, but she is also overweight (and loves her body) and Latina. It was an interesting mix and I really liked her complexity - independence and feminist sensibility interwoven with being close to her family and really caring about their opinion and well-being.
Jethro was a really interesting character. He is an odd ball like all the rest of the Winston brothers. His past paints him as the typical small-time criminal, biker, following his father's footsteps. But what the reader sees in the present is a man trying to make amends for his mistakes, trying to be a better man and not hurt anyone intentionally. The tortured aspect of his personality was convincingly done but it was also balanced with some humours situations (which are inescapable with the Winston family) and the angst and brooding never got overwhelming.
Sienna appeared much more light-hearted and easy going, a bit fickle and a lot of playful. I found her passion for the things she loved and cared about totally endearing and it made me really like her.
Their romance was not an easy one, there were some misunderstandings between them initially which I really found annoying and unnecessary. Both of them learned of the other's past/history from third sources and jumped to the wrong conclusions. This is definitely not my favourite device for building conflict and I wished it was not used in this otherwise cleverly developed story.
Still, this is a minor quibble and didn't prevent me from enjoying the story. This is a recommended read for fans of Ms Reid's writing and for anyone looking for a sexy and smart romantic comedy.
My review of
Truth or Beard (Winston Brothers #1) - 4.5 Stars