Review: The Enlightenment series by Joanna Chambers
00:00
I won copies of this series back in spring and have been meaning to read it even before that but somehow I never came around to doing it. Now that I've read that I can't believe I waited so long to do it. What was I thinking?! In short, I absolutely LOVED this series. I'm doing a joint review since the story covers the life and love of the same couple - Lord Murdo Balfour and Mr. David Lauriston.
Title: Provoked (Enlightenment #1)
Author: Joanna Chambers
Genre: Historical, MM romance
Release Date: 23 July 2013
Author's links:
Website / Twitter / Facebook / Goodreads
Add on Goodreads
My rating: 4.5 Stars
When a man loses his heart, he has no choice but to follow…
Lowborn David Lauriston lacks the family connections needed to rise in Edinburgh's privileged legal world. Worse, his latest case—defending weavers accused of treason—has brought him under suspicion of harbouring radical sympathies.
Troubled by his sexuality, tormented by memories of a man he once platonically loved, David lives a largely celibate life—until a rare sexual encounter with a compelling stranger turns his world on its head.
Cynical and worldly, Lord Murdo Balfour is more at home in hedonistic London than dingy, repressed Edinburgh. Unlike David, he intends to eventually marry while continuing to enjoy the company of men whenever he pleases. Yet sex with David is different. It's personal, intimate, and instead of extinguishing his desire, it only leaves him hungry for more.
As David's search for the man who betrayed the weavers deepens, he begins to suspect that his mysterious lover has more sinister reasons for his presence in Edinburgh. The truth could leave his heart broken…and more necks stretching on the gallows.
This is a fabulous historical romance series which I enjoyed a lot. Book 1 starts dramatically with an execution followed by a hot sex-in-a-back-alley scene and it looks liked a roller coaster from there. Things do slow down after that and I liked the depth and breath of the story Ms Chambers created.
Told exclusively from David's POV this series got completely invested in his life from the start. I understood his social and sexual anxieties, his fears and dreams and hopes against hope. I grew to care and love him despite not always agreeing with his thoughts and actions. I found his inner turmoil over his sexuality believable. His journey through he story was an amazing one - slow, with twists and turns, but unflinching and honest like himself. David was a person of principles and a strict moral code which often made him seem too rigid and unbending in the eyes of Murdo who had an exactly opposite views on life.
Murdo was presented as tradionally handsome, very manly, very there, his presence powerful and mesemrizing. I understand his appeal yet I remain a Davy girl till the very end of the series. He did change as the story progressed but i felt there was less development with him.
The romance barely started here, it was more of a random encounter which had surprising effects on both David and Murdo and their (misguided) attmepts to deal with it. The attraction and chemistry is there but the build up of their relationship is slow, Murdo and David do have much page time together romantically in this book but it felt natural and real given the times and the personal circumstances of the characters.
I liked the simple and elegant writing of Ms Chambers and the way she gave her story a rich and detailed historical atmosphere. The language is evocative and powerfully used to give the readera a strong sense of being there in the city, in the library where David worked, in Murdo's mansion, on the streets in Edinburgh.
There are strong social and political elements in the story which, I have to say, sometiems felt force and not fully intrinsic to the characters. Still, I very much enjoyed the gradual change of David's view of society, politics, religion, personal happiness.
Ms Chambers also included some great secondary characters (we see more of them in the next books too) adding to the richness of the story. The story continues in the next book but there is no cliffhanger ending to to this one. On the contrary, it's a tender, heart-felt ending which made me very happy.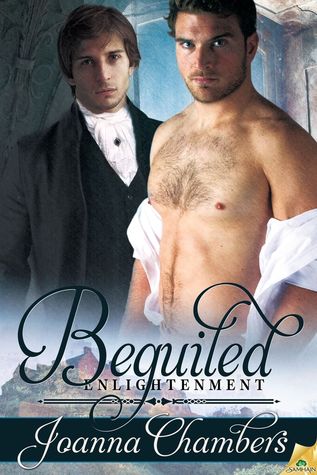 Title: Beguiled (Enlightenment #2)
Author: Joanna Chambers
Genre: Historical, MM romance
Release Date: 24 Dec 2013
Author's links:
Website / Twitter / Facebook / Goodreads
Synopsis
"A fleeting pleasure is the sweetest seduction..."
David Lauriston couldn't be less interested in King George IV's first visit to Edinburgh. But with Faculty of Advocates members required to put on a minimal show of patriotism, David makes an appointment with his tailor for a new set of clothes-only to run into a man he hasn't seen for two long years.
Much has changed since their bitter parting, except their stormy attraction. And when Murdo suggests they enjoy each other's company during his stay, David finds himself agreeing. After all, it's only a temporary tryst.
Amidst the pomp and ceremony of the King's visit, Murdo's seduction is more powerful than David ever imagined possible. But when other figures from David's past show up, he is drawn into a chain of events beyond his control. Where his determination to help a friend will break his body, threaten his career, and put at risk the fragile tenderness he's found in Murdo's arms.
The story in this book continues two years after David and Murdo parted in the end of the first book. There is some more action and plot dynamics in this instalment and David and Murdo get to spend more time together which I thoroughly enjoyed.
We still get David's POV but we do get to know Murdo better as well through the increasing intimacy they share. They are still very much unlike though more and more common ground grows between them. At the background of some political intrigues, family troubles, David and Murdo explore their connection while keeping one too many secrets, one too many parts of themselves hidden. For David this is because he sees the affair as one-time indulgence on his part and for Murdo, well let's say that his reasons are not reveilled until the next book.
Euan and Elizabeth also take more prominent place and I enjoyed it, though there were some elements (Euan's feminist rant) felt a bit forced. Overall I found the whole social and political thread running through the series to be an important element in the character development, making them all real people fighting their own battles.
What I love the most in this book (and in the next) is the dynamics between David and Murdo. The slowing growing intimacy between them, the way to open bit by bit to each other, even their fights, they way they try to rationalise what's happening between them is an exquisite pleasure to read.
The writing is as powerful and elegant as in the first book and both the romance and the intrigue are just getting stronger. This time the ending leaves us anxious for the next story and it's a good thing I already had the next book at hand and started reading it immediately after finishing this one.
Title: Enlightened (Enlightenment #2)
Author: Joanna Chambers
Genre: Historical, MM romance
Release Date: 6 May 2014
Author's links:
Website / Twitter / Facebook / Goodreads
Synopsis
Five months ago, David Lauriston was badly hurt helping his friend Elizabeth escape her violent husband. Since then, David has been living with his lover, Lord Murdo Balfour, while he recuperates.
Despite the pain of his injuries, David's time with Murdo has been the happiest of his life. The only things that trouble him are Murdo's occasional bouts of preoccupation, and the fact that one day soon, David will have to return to his legal practice in Edinburgh.
That day comes too soon when David's friend and mentor takes to his deathbed, and David finds himself agreeing to take on a private mission in London. Murdo is at his side in the journey, but a shocking revelation by Murdo's ruthless father leaves David questioning everything they've shared.
As tensions mount and the stakes grow higher, David and Murdo are forced to ask themselves how far they're prepared to go—and how much they're prepared to give up— to stay together. And whether there's any chance of lasting happiness for men like them.
Review

What a conclusion to a wonderful series! It was just so good!
Everything finally fell into place. There is a lot of happening in this book - for Murdo and David, for Euan and Elizabeth, for most of the other characters. T
here are also some plot twists that kept me on the edge.
I love the way Murdo and David come together in the end in a way that felt right for them and authentic to their characters the way they were developed throughout the series.
There were again minor moments when I felt the narration too preachy (there seems to be one such moment for me in every book in the series) The love advice David got from Elizabeth's father was very much something he needed yet the way it was presented didn't feel fully natural to the story.
There is some melodrama, some going back and forth, a challenge to a duel and aristocratic fall from grace and I enjoyed it all. It brought to mind traditional historical romance settings and tropes, yet it felt fresh and fun. Murdo's treatment of David as a damsel in disress when he only meant to express his love through caring for him (I can really relate to this because it's taking care of people is a big part of how I love) and David's indignant resistance to being seen and treated like a woman. It was thought-provoking and insightful.
David and Murdo really try to make their relationship work in the only possible way for them. The ending was beautiful and the epilogue left in a happy place.
I can't recommend this series enough! If you enjoy historical romances and you haven't read these books yet, I have only two words for you - READ IT!