Review: Sunset Park by Santino Hassell
00:00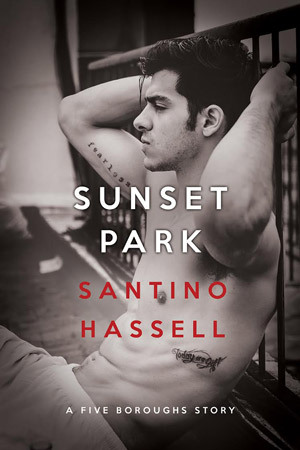 Title:
Sunset Park (Five Boroughs #2)
Author:
Santino Hassell
Date of publication:
31 July 2015
Genre:
MM romance

My rating: 4 Stars
Synopsis
Raymond Rodriguez's days of shoving responsibility to the wayside are over. His older brother wants to live with his boyfriend so Raymond has to get his act together and find a place of his own. But when out-and-proud David Butler offers to be his roommate, Raymond agrees for reasons other than needing a place to crash.
David is Raymond's opposite in almost every way—he's Connecticut prim and proper while Raymond is a sarcastic longshoreman from Queens—but their friendship is solid. Their closeness surprises everyone as does their not-so-playful flirtation since Raymond has always kept his bicurious side a secret.
Once they're under the same roof, flirting turns physical, and soon their easy camaraderie is in danger of being lost to frustrating sexual tension and the stark cultural differences that set them apart. Now Raymond not only has to commit to his new independence—he has to commit to his feelings for David or risk losing him for good.
Review
This is the second book in Five Borough series and it features the unlikely couple of Michael's brother, Raymond and Michael's colleague, David. On the surface they are complete opposites and they don;t make much sense as I couple - Raymond is a bicurious Puerto Rican guy who's never been with a man and has no steady job or big professional ambitions while David is white, preppy and middle class and oh, so very openly gay. I loved how Mr. Hassell make drew them gradually coming together into this very sweet, very cute and very sexy couple.
This story is lighter in tone than Sutphin Boulevard but behind all the smiles and easy attitude of the characters there are again all the serious issues young people face in the big city today - the culture clash, the issues of sexual identity and defining oneself - as gay, loser, stoner, hipster. Mr. Hassell explored with stark realism what it takes to fit it, to make it, to achieve something, be it a successful personal relationship or professional realization.
I liked the strong realistic writing and the tight plot of the story, Ray is such an interesting character, nothing like me, yet I felt connected to him and I consider this one of the greatest strengths of a writer - making me love I character who so different from me.
David acted like an annoying prick in book 1 and here he did make his fair share of mistakes but I felt sympathetic to him. The author made me understand his struggles, his issues, though come on, he was past due to let Caleb go.
Mr. Hassell has the knack to build full-fledged characters living complicated, real lives. He explores not just heir romantic connections but also their family situation, professional life and friendships in detail making the characters feel like people you could me in real life and not just some fictional romantic heroes.
I have to admit the cuddling and the close physical contact between Ray and David though endearing appeared confusing at the beginning. I was surprised how easy and open Ray was about all of it. I'm glad it got addressed later one, it felt good that David and Ray could ultimately talk openly and honestly about everything that bothered them.
There was a lot of drama in this story, but David is all about the drama and it felt natural and fitting his character development through the story. And Raymond as easygoing and understating as he appeared to be, was not always an open book.
One of the strongest characteristics of the story was its easy flow, the way the relationships grew and developed, there was nothing forced, nothing artificial.
All in all, this is a great addition to the Five Borough series and a recommended read for fans of contemporary romance about real people.