Review: Sutphin Boulevard by Santino Hassell
00:00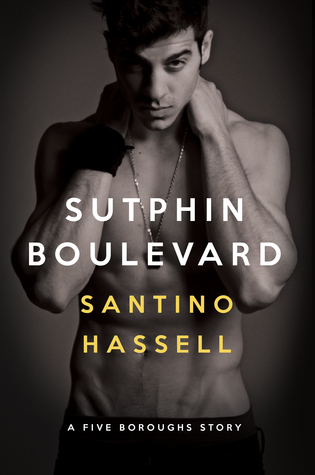 Title: Sutphin Boulevard (Five Boroughs #1)
Author: Santino Hassell

Date of publication: 31 July 2015
Genre:
MM romance, gay ficiton
Santino's links:
Website / Twitter / Facebook / Goodreads
Add on
Goodreads
My rating:
4.5 Stars
Synopsis
Michael Rodriguez and Nunzio Medici have been friends for two decades. From escaping their dysfunctional families in the working-class neighborhood of South Jamaica, Queens to teaching in one of the city's most queer friendly schools in Brooklyn, the two men have shared everything. Or so they thought until a sweltering night of dancing leads to an unexpected encounter that forever changes their friendship.
Now, casual touches and lingering looks are packed with sexual tension, and Michael can't forget the feel of his best friend's hands on him. Once problems rear up at work and home, Michael finds himself seeking constant escape in the effortless intimacy and mind-blowing sex he has with Nunzio. But things don't stay easy for long.
When Michael's world begins to crumble in a sea of tragedy and complications, he knows he has to make a choice: find solace in a path of self-destruction or accept the love of the man who has been by his side for twenty years. 
Review
I still haven't finished ICoS series co-authored by Santino Hassell and Ais (I'm almost there though) but I was super excited when I got the chance to read Mr. Hassell's debut contemoporary mm romance and dropped everything to start it. It's the first of a series of stories set in New York and my reaction can be summed in the succinct I LOVE IT.
It's a raw and gritty story powerfully told. It felt to me more like gay fiction than rtaditional romance and I very much appreciate that the focus is on Michael's journey, including love but not exclusively.
The writing is brilliant, engaging and true-to-life, draws you in the story and never lets go. There is intensity and action and twists and turns that keep you on the edge all the time. It's a rare thing for a romance story to be so intense, a true can't-put-down book.
The story is told in 1st person POV (Michael's) present tense. It gives us an unlimited access to his thoughts, feelings, fears and hopes and presents everything and everyone through his, sometimes biased, perspective. We get a good feel of his best friend, colleague, partner-in-crime, lover Nunzio but for me this is Michael's story. Nunzio is his rock, loyal, always there, 100% supportive.
Mr. Hassell draws these intriguing characters in all their complexity and their relationships. They are all multi-faceted, diverse but a mix of basically good people making mistakes, fumbling around, a little lost but also occasionally making the right decisions, being supportive and understanding, helping each other and finding moments of bliss and harmony. Michael's journey presents an exploration of the realtionships of a modern gay man in NY - with his family, his colleague, friends, lovers, with himself.
The story deals with some heavey issues and Michael is not easy to love sometimes though his character is portayed with such deep sympathy by the author that it makes it impossible to feel deeply for him. The problem of addiciton has an important place and I very much like how it was treated, as a serious issue that needs professional help, not a minor character flow or plot device. There is no miraculous cure, for all his love and understanding Nunzio (nor Ray or David) can help Michael until he gets professional help. It took him some brutal honesty and hard work coupled with his friends support.
In terms of romance this is a friends-to-lovers story which really took off with some outside help. I was pleasantly surprised how well David fit into the story and even though I'm not a big fan of menage, the threesome scene worked really well here.
This is not your sappy, over-the-top romance of tender loving, grand gestures and promises of everlasting, undying love. What the author gives us instead is a deep, time-tested love coupled with intense sexual chemistry. There is no artificial angst and dwelling on could-have-beens but a realistic view on life, love and all inbetween.
I loved the supporting characters, the school atmophere, the NY feel, though I have no personal experience of either i felt they were compeling written and made me feel there in the actual story.
My only minor quibble is that the ending felt rushed. I would have love to see more of Michael and Nunzio as a couple and I felt some issues were left unresolved. That said, I'm really excited about the next book, coming out in December 2015. I admit that I was taken by surprise who the next couple will be and I'm very much curious how things will happen between them.